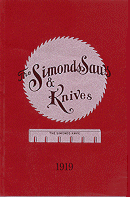 SSK19
SIMONDS SAW MFR. CO. FITCHBURG, MASS. CATALOGUE NO. 19. 1919.
6 1/4" x 9 1/8", 195 pp., soft-cover.
Illustrates, prices and describes inserted point circular saws, band saws, pit saws, saw swages and sets, saw-maker's tools, crosscut, hand, buck, hack and butcher saws of all types. Also files and heavy duty knives.
Cost: $12.00 +$6.00 shipping