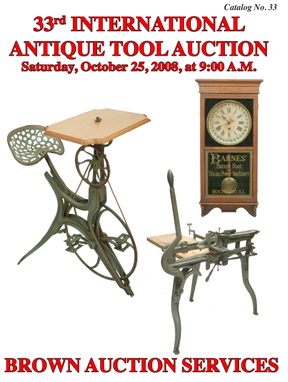 All color format with all tools photographed.
Sandusky Tool Co. No. 140 Rosewood center wheel plow plane, Barnes Patent Foot and Steam Power Machinery from the Doug and Lorene Cunningham Collection including aditions by Greg Bruck. Items incude a No. 4/5 Scroll saw, Velocipede saws, Formers and Grinders,Mortising Machine, Table saws. E. W. Carpenter handled plow plane, Melick level, Bailey planes, Stanley No. 1 and other planes.
791 lots.
76 pages. Full color.