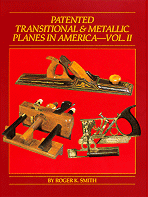 PTAMPIA2
Patented Transitional & Metallic Planes in America, Volume II.
BY Roger K. Smith
PATENTED TRANSITIONAL & METALLIC PLANES IN AMERICA, VOLUME II. Roger K. Smith, 1992.
Over 450 photos--44 in full color. Over 50 pages of new information on Stanley and Bailey planes.
Planemakers up to 1960 including Millers Falls, Shelton, Vaughan & Bushnell, Phelps, etc.
List of Brand names and all known U.S. plane and spokeshave patents.
ALL NEW INFORMATION (Not a revised Vol. I.)
8 1/2 x 11", hardcover, 400 pages.
Cost: $80.00 + $9.00 shipping