6702 High Bids as of 12:00pm December 8, 2017

CLICK HERE.
6702 Fine Tool Journal Fall 2017 absentee auction now online!
Auction ends December 10th, 2017.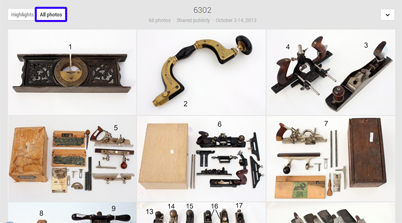 Auction Information:
Initial bids must be received on or before the end of the day Saturday, December 9, 2017. Initial bids can be increased at any time until the end of the auction on Sunday, December 10, 2017. If you would like to bid on a paper bid sheet, blank bid sheets can be printed out here. Mail, fax, or email your bids to the address provided on the form. You may also bid on the auction and submit an electronic bid sheet using the online auction listing below.
To view all auction items in our Web Albums, click here. To see all photos in order, select All Photos (in blue in the image above). Clicking on individual photos reveals full description and the ability to zoom in.
How to bid in our current auction below:
Enter bid in Maximum Bid box to the right of lot desired and click "Add to Cart" button.
Review bid on the next page.
If you would like to bid on more lots, click the "Continue Bidding" button to return to the current auction to place more bids. The number of bids in your cart will appear at top of current auction page.
Bid on next item(s) until completed bidding on all lots you wish to bid, hitting the "Continue Bidding" button after each bid is added to cart.
When placing your final bid, select the "Place Bid" button, then the "Confirm" button after reviewing all bids. Proceed with entering contact information to submit bid(s) to Fine Tool Journal.
To quickly and automatically process any auction wins, please call us a (800) 964-9036 to securely place your credit card on file.
Thanks for bidding!
To confirm we received your bids and to check on current High Bids please call (800) 964-9036. Bids may be increased by calling or by submitting increases online below.
Items marked with an asterisk (*) before the description allow a minimum bid of $1. All other items have a minimum $20 bid.
| | | | | | | | |
| --- | --- | --- | --- | --- | --- | --- | --- |
| LOT | DESCRIPTION | CONDITION | SOURCE | LOW | HIGH | PHOTO (CLICK TO ENLARGE) | BID |
| 6702-001 | 6702-001 STANLEY No. 45 combination plane IOB. Type 12 in nearly immaculate condition looks barely used. Plating 99 percent wood clean and only a few light dings fence looks like it was used maybe once. Has both sets of rods plus an extra short rod pair screwdriver two complete cutter sets with good labels plus 5 or so extra cutters in the box extra slitter and depth stop two cams and two original instruction books in gently used condition. In faded pasteboard box with moderate wear and scratching and one seam split on lid label on top looks original but end label may be replacement. | Good plus | HEN2 | 150 | 3000 | | |
| 6702-002 | 6702-002 Infill smoother. Looks craftsman made with steel body wood looks like mahogany carved front bun brass lever cap cutter is repurposed STS. Rust on body and cutter some glue on a few spots five-eighth inch throat. | Good | CLA67 | 40 | 80 | | |
| 6702-003 | 6702-003 Infill smoother. Looks craftsman made with steel body wood looks like mahogany brass lever cap SORBY cutter. Paint and rust on body some glue on a few spots three-eighth inch throat. Casting flaw at toe | Good | CLA | 40 | 80 | | |
| 6702-004 | 6702-004 SIMPLEX interchangeable sole plane. Metal body cast -Simplex- at toe and three wood bottoms all rounds marked 4 6 and 12. One cutter marked L and IJ WHITE and with number 6. Lever cap has knurled brass locking screw. Wood on tote and knob has some stains and paint flecks wear but no major damage. User name etched on one cheek. Bottoms have a few stains and paint flecks. | Good | CLA771 | 100 | 200 | | |
| 6702-005 | 6702-005 Lot of two STANLEY No. 131 double end block planes. Fairly clean examples of this block plane on which the cutter could be reversed and used for rabbeting. Notched rectangle mark on both japanning 80-85 percent some spots of light surface rust on sole and cheeks. | Good | LHD134 | 100 | 200 | | |
| 6702-006 | 6702-006 Iron block plane. Looks like the one listed as figure 186a on pg. 155 in PTAMPIA which Roger Smith thinks may be manufactured by A.W. KINDRED. Has A.L. WHITING and CO. cutter rosewood wedge with dinging 6 inch sole. Some discoloration and pitting three-eighth inch wide chip in throat. | Good minus | CLA76 | 60 | 120 | | |
| 6702-007 | 6702-007 L. L. DAVIS block plane. Iron body screw rest forming the bed piece under the cutter changes pitch of iron and in turn opens and closes the throat. Japanning 60 percent with traces on cheeks cutter marked -Manufactured by Davis Level and Tool Co. Springfield Mass.- Some pitting throat looks widened and has small chip one-eighth inch hole in one cheek surface rust. | Good minus | BHR64 | 125 | 250 | | |
| 6702-008 | 6702-008 STANLEY No. 93 rabbet plane. American made patent dates on cutter no steel disc in toe nickel is 70 percent. | Good | RSR5 | 60 | 120 | | |
| 6702-009 | 6702-009 STANLEY No. 95 edge trimming plane. Type 1 japanning 85 percent chip in throat otherwise a nice example. | Good minus | LHD129 | 50 | 100 | | |
| 6702-010 | 6702-010 STANLEY No. 55 combination plane with cutter set. All parts look to be present but dont quote me on that. Cutter sets look complete with an extra 212 cutter labels 70-80 percent. Sweetheart mark on plane and cutters tote has some light scratching fences have a few chips plating 90 percent. Also has micrometer and small oiler with it. | Good | RUS292 | 150 | 300 | | |
| 6702-011 | 6702-011 STANLEY No. 45 combination plane. Type 7B missing one long rod nickel plating 80 percent wood has light wear and a little chipping at tip of tote one cutter short of set but rest are in wood box with green label. | Good minus | BHR | 100 | 150 | | |
| 6702-012 | 6702-012 STANLEY No. 141 . Later model plating 85 percent missing depth stops filletster bed and bullnose tote has some chipping. | Good minus | DOR246 | 125 | 259 | | |
| 6702-013 | 6702-013 SIEGLEY plow plane. Looks like model in photo 110a in PTAMPIA with two-piece wood fence and screw adjustment rod locking screws are replacement thumbscrews japanning 80 percent plating 70 percent. Wood has some staining and chipping. | Good minus | BWH78 | 50 | 100 | | |
| 6702-014 | 6702-014 SARGENT No. 1080 combination plane. D casting mark and Made in USA on body wood has light wear tote has crack at base repaired with a nail. Paint 80 percent one cutter. | Good minus | DOR272 | 35 | 70 | | |
| 6702-015 | 6702-015 STANLEY No. 248A weatherstripping plane. Has all 7 cutters japanning 95 percent a little surface rust and could use a cleaning otherwise in good shape. Plus has a YANKEE No. 90 screwdriver wear to handle. | Good | SAN106 | 40 | 80 | | |
| 6702-016 | 6702-016 STANLEY No. 50 light plow plane. Type 2 with scroll design on handle and slotted brass screws traces of japanning 17 cutters in wood box with sliding lid | Good | LHD138 | 60 | 120 | | |
| 6702-017 | 6702-017 Lot of two STANLEY bench planes. A No. 5-half early Type 11 japanning 70 percent tote and knob have dinging tote has hole at top near screwhead. Looks like number 31 cast on backside of lever cap light pitting user initials punched in cheek. And a No. 6C bed only has two patent dates behind frog but cutter is sweetheart wear to wood and letter I carved into knob spots of rust on cheeks and toe. | Good | DOR281 284 | 50 | 100 | | |
| 6702-018 | 6702-018 Lot of two STANLEY Type 11 planes. A No. 4 light wear to wood 7E carved on tip of tote some scratching on sole initials punched in cheek surface rust spots japanning 85 percent. And a No. 5C wood has light wear japanning retouched couple spots of rust. | Good | DOR282 | 45 | 90 | | |
| 6702-019 | 6702-019 STANLEY No. 605C Bedrock. Type 3 japanning 65 percent some rust knob has light dinging tote has missing tip and crack in middle and has large chip in rear left cheek. | Good minus | BHR655 | 40 | 80 | | |
| 6702-020 | 6702-020 STANLEY No. 10 carriagemakers rabbet plane. Type 3 with patent date cutter japanning 70 percent wear to wood tote missing most of tip and has crack in middle chip at base of knob and hole through body behind knob scratching on sole. Dinging and user initials in cheeks. | Good minus | LHD127 | 50 | 100 | | |
| 6702-021 | 6702-021 STANLEY No. 112 cabinet scraper plane. Late Type 1 blade unmarked and likely a replacement blade locking screw missing and has replacement threaded brass screw adjustment screw has Baileys patent. Tote missing tip knob has tight crack sole pitted. | Good minus | BSR244 | 50 | 100 | | |
| 6702-022 | 6702-022 STANLEY No. 62 low angle plane. Designed for cutting cross and end grains this is one of Stanleys rarer planes. Plain Stanley mark on cutter japanning 80 percent with some red paint spots on toe plating on lever cap 80 percent. Metal discolored and a few spots of rust throat looks ok tote has chipping on sides needs a cleaning and tune up. | Good | OVR168 | 100 | 200 | | |
| 6702-023 | 6702-023 STANLEY No. 2 bench plane. Vee mark on cutter plain lever cap wood ok japanning 90 percent but may be touched up in a spot or two. A few scratches on sole and some light pitting in a few areas but nothing too serious. | Good | BSR533 | 100 | 200 | | |
| 6702-024 | 6702-024 Lot of two STANLEY bench planes. A No. 10-half bench rabbet plane patent applied mark on blade only July patent date on lateral tote has poorly repaired crack knob good with light wear and spot of paint japanning 90 percent. Small chips on cheek and toe but throat good. And a No. 3 Type 11 surface rust wood has light wear and a few hairline cracks at base of knob japanning 90 percent. | Good | DOR7 71 | 100 | 200 | | |
| 6702-025 | 6702-025 STANLEY No. 4 smoothing plane. Looks to be a Type 10 wear to wood japanning 90 percent light pitting and rust on sole. | Good | DOR242 | 30 | 60 | | |
| 6702-026 | 6702-026 E.W. CARPENTER panel raiser. 13-three-fourth inch x 4 inch sole skewed 3 inch wide BUTCHER cutter with a few spots of rust offset tote has chips off end with one rather large. Carpenters Lancaster mark upside down multiple stamps by PT Van Horne single boxing has cracks and body has some checks general wear and chipping. | Good | RUS219 | 75 | 150 | | |
| 6702-027 | 6702-027 H. CHAPIN UNION FACTORY pump log plane. B mark some staining on body and a few worm holes missing its 1-half inch cutter. Some scuffs and chips hanghole on fence. | Good minus | GAN250 | 30 | 60 | | |
| 6702-028 | 6702-028 CASEY KITCHEL and CO moving filletster. C mark handled with light wear on tip of tote front inner part of fence looks replaced a few cracks in shoulder boxing cutter sharp. Has depth stop and nicker. | Good | GAN1000A | 35 | 70 | | |
| 6702-029 | 6702-029 GREENFIELD TOOL CO. moving filletster. Handled and marked No. 287 some chewing to fence and tote a few spots of rust on cutter. Has nicker and depth stop. | Good | GAN1000B | 30 | 60 | | |
| 6702-030 | 6702-030 L. TOMKINSON moving filletster. Tomkinson was a Birmingham maker from 1818-1829 (see Goodman p. 153). Has what looks like a later addition brass depth stop secured with two large flathead screws. Dings on heel a couple small holes in fence general age and wear. User stamps. | Good | WOL316 | 40 | 80 | | |
| 6702-031 | 6702-031 GREENFIELD TOOL CO. moving filletster. Unhandled marked No. 279 generally clean with only a little chewing of wedge cutter clean a little bit of paint on sole user stamps. | Good | AND12 | 30 | 60 | | |
| 6702-032 | 6702-032 SHIVERICK and MALCOLM coachmakers door smoothing plane. NY makers from 1853-64 A mark (2 stars) but no Brooklyn beneath slightly skewed 2-one-fourth inch cutter 9 inch sole. Clean with small hole in one side of body age checks user stamps. | Good | REW564 | 40 | 80 | | |
| 6702-033 | 6702-033 Lot of two special grooving planes. Both with one-eighth inch cutter with a fixed metal skate and an adjustable metal fence. One is marked SANDUSKY TOOL CO. SPECIAL and other is unmarked but looks very similar with nearly identical wingnuts to hold fence in place. Both have a few spots of pitting and wear. Some pitting on fence of unmarked one. | Good | REW539 540 | 40 | 80 | | |
| 6702-034 | 6702-034 Lot of four Japanese style planes. 9-half inch 6-half inch and 6 inch long smoothing planes cutters have surface rust and one has Japanese characters crudely painted near toe. And one with beveled sides and vee shaped cutter 8 inches long hole through body near cutter was likely originally for a blade holder. Light wear and a few age checks in the smoothers. | Good | HAN643 | 35 | 70 | | |
| 6702-035 | 6702-035 Lot of coachmakers rabbet planes. 6 total 2 are tailed majority have user marks. Most have convex soles one is flat soled and one is a three-fourth inch round. 2-one-fourth inch to 4 inch soles. | Good | HAN639 | 40 | 80 | | |
| 6702-036 | *6702-036 Lot of two planes. A 3-half inch long hollow plane unmarked with three-fourth inch cutter wear. And round plane looks Japanese 5-one-fourth inches long with sole concave but body convex lengthwise and 1-one-fourth inch rounded cutter. | Good | HAN603 642 | 20 | 40 | | |
| 6702-037 | 6702-037 Lot of miniature planes. One with chamfer style sole and one-eighth inch round cutter 2 inch long body and Japanese characters on cutter. A 3-half inch long Japanese smoothing plane with 1 inch cutter. And two coffin planes one 4 inch long rosewood body with flat sole and three-fourth inch cutter and a 3 inch long body with rounded sole and five-eighth inch cutter. Plus a pencil sharpener in the shape of a horn plane 2-half inches long. | Good | HAN630 | 30 | 60 | | |
| 6702-038 | 6702-038 Lot of four tool handles. Three by STANLEY including No. 306 with 8 out of 12 tools and some wear and staining nickel plated chuck marked what looks like a No. 305 with unmarked brass chuck and rosewood handle with cracks some chipping user stamp and 7 out of 12 tools and a No. 1 marked with Clements patent 4 tools some scratching to chuck and wear to wood. Plus an unmarked one 4-half inches long with 2 jaw chuck and hardwood handle 14 tools in handle including small wrench some wear to wood. | Good | LHD140 141 142 | 50 | 100 | | |
| 6702-039 | *6702-039 Lot of two WRIGHT patent tool handles. Both marked with 8-12-84 patent dates both hardwood with wear one has cracked cap and chewing at end 5 tools chipping of threads and plating on chuck 50 percent. Other has 8 tools notch carved out of threads plating 60 percent. | Good minus | LDZ20 21 | 25 | 50 | | |
| 6702-040 | 6702-040 Lot of three tool handles. One by HORACE E. BRITTON also marked with Henrys 3-3-74 patent 8 out of 12 tools about half its nickel plating and nice rosewood handle. A STANLEY No. 305 also with rosewood handle with some dings and a splotch of paint hairline crack 70 percent plating 11 out of 12 tools. And an unmarked 6 inch one with hardwood handle and traces of red paint four jaw chuck 7 tools including saw blade some chipping of threads. | Good | BHR660 | 35 | 70 | | |
| 6702-041 | 6702-041 Lot of two large tool handles. A MILLERS FALLS with 1-14-68 faint on chuck rosewood body with replaced end cap that is 2-one-fourth inches long and made of knurled brass. 12 tools a few tiny chips to threads and a couple dings to wood. And unmarked one with two jaw nickel plated chuck and solid brass body. Some discoloration and dinging to body plating 95 percent on chuck 11 tools. | Good | DJS1870 1786 | 40 | 80 | | |
| 6702-042 | *6702-042 Lot of three tool handles. A STANLEY No. 2 with no tools and traces of japanning one that looks like a STANLEY No. 305 with 75 percent nickel plating on chuck 10 out of 12 tools some wear to rosewood and what looks like user initials. And a FRAY rosewood handle some cracking of collar and traces of nickel plating a few cracks in cap and threads pretty chewed two bits. | Good minus and better | BHR659 | 25 | 50 | | |
| 6702-043 | 6702-043 Lot of three metal bodied tool handles. A STANLEY No. 2 with 9 tools japanning 80 percent one marked N.H.S. Co. Diamond Edge knurled body 10 tools a spot or two of rust but overall clean and one with bulbous brass body nickel plated chuck marked -Down London- with light wear no tools. | Good | DJS180 | 30 | 60 | | |
| 6702-044 | *6702-044 Lot of two handled tools. A MILLERS FALLS tool handle clean with rosewood handle and nickel plated chuck 8 tools some damage to threads otherwise ok. And a YANKEE No. 65 ratcheting reversible flat head screw driver plating fairly clean with user initials handle has light wear and staining. | Good | AND11 | 25 | 50 | | |
| 6702-045 | 6702-045 MAWHOOD SHEFFIELD mortise chisel. three-fourth inch marked on one side with name and 1943 on other side. Nickel plating 80 percent handle has some red stain near top chewing at end. Small crack at base where it meets handle. | Good | KGM248 | 30 | 60 | | |
| 6702-046 | 6702-046 Lot of mixed socket chisels. 9 total. 2 inch by OHIO TOOL 1 inch and five-eighth inch by WITHERBY 1-three-fourth inch three-fourth inch and half inch by G.I. MIX and CO. three-eighth inch one-fourth inch and one-eighth inch unmarked. Most are bevel edge a couple need honing a few handles dont fit snug. | Good | DOR236 | 50 | 100 | | |
| 6702-047 | 6702-047 Lot of four edge tools. 1 inch and 2-one-fourth inch diameter BUTCHER tang gouges 1 inch needs a new handle larger one by has a few chips on blade but can be honed out. 1 inch solid metal corner chisel with a few spots of surface rust but edges sharp. And half inch chisel with metal handle edge sharp. | Good | ALV127 193 516 546 | 40 | 80 | | |
| 6702-048 | 6702-048 Lot of three STANLEY everlasting chisels. Three-eighth inch half inch and five-eighth inch. All marked with 5-6-24 patent date but only two smaller ones have sweetheart mark. All have same user initials discoloration spots on metal light wear to wood and stamps. | Good | BSR138 | 40 | 80 | | |
| 6702-049 | *6702-049 Lot of four tools. A one-fourth inch chisel marked -L. BUTSHER- which could be typo of Butcher handle has significant inactive worm on one side. A three-fourth inch BUTCHER gouge handle has chipping at end some light rust but edge sharp. And two turnscrews 7 inch and 9-half inch long some wear. | Good minus | DSD26 | 20 | 40 | | |
| 6702-050 | 6702-050 Lot of four STANLEY chisels. one-fourth inch and three-fourth inch everlasting with sweetheart marks and wood handles a 1 inch No. 720 and a one-fourth inch No. 40 everlasting with black handle. All edges sharp light wear and a couple have some discoloration. | Good | DOR251 | 50 | 100 | | |
| 6702-051 | 6702-051 Lot of miscellaneous chisels. 18 total 2 inch to one-fourth inch in width one is 1 inch skew a few are bevel edge. Makers include STANLEY BUCK BROS BUTCHER PEXTO FULTON WORTH about half unmarked. Handles vary from chewed ends to replaced new most ok. Some rust stains and light pitting on a few. | Good minus and better | OVR380 | 60 | 120 | | |
| 6702-052 | *6702-052 Lot of five handled tools. Four turnscrews 10 inch to 5 inch in length makers include W.J. (William Johnson maybe) J. MELLER and BOOTH MILLS and CO one unmarked. Plus a scratch awl. All handles are smooth and look polished one turnscrew has rust. | Good | RSR34 | 25 | 50 | | |
| 6702-053 | 6702-053 Lot of four crank neck gouges. Two marked BUCK BROTHERS other two unmarked but might also be Buck as all four handles are marked -The Wellman Prod. Co. Cleveland O.- 1-half inch 1 inch half inch and one-fourth inch in width handles have some wear and end of one painted red some very light surface rust on a couple. | Good | PNG50 | 35 | 70 | | |
| 6702-054 | *6702-054 Lot of three tools. A 11-half inch turnscrew by KNAPP and COWLES moderately worn a half inch chisel by BLOOMER and PHILLIPS with handle marked Lutz File Co. some grey paint on handle and a 12 inch long double ended pick marked MOUND TOOL CO. | Good | AND5 9 | 20 | 40 | | |
| 6702-055 | *6702-055 WEISS and SOHN wooden D router. 8 inch long body three-eighth inch PEUGEOT FRERES cutter wedge looks replaced has Weiss stamp on front. Some wear and staining. | Good | HAN600 | 20 | 40 | | |
| 6702-056 | *6702-056 D router. Unmarked except for user name one-fourth inch cutter held by brass screw with hollow square at end that cutter fits through and is locked with large brass wingnut has brass plates on either side of body. Scuff on wood on one side a few stains. | Good | UNK | 25 | 50 | | |
| 6702-057 | *6702-057 Old womans tooth router. 6 inch x 2-half inch body looks carved out of burl nicely carved. A few spots of inactive worm and chips in sole. | Good | HAN601 | 25 | 50 | | |
| 6702-058 | 6702-058 Lot of two wood bodied tools. A tapered rounder 10 inches across and tapers from 1-half inch to 1 inch repaired large split on one side of body and handle a few other cracks and chips from age. 3 inch blade. And a small shave 6 inch across with 2-one-fourth inch curved blade and brass plate held by screws. A few spots of rust but overall clean letter M carved on one side. | Good | DSD15 47 | 30 | 60 | | |
| 6702-059 | 6702-059 Lot of two tools. A coffin plane with faint London maker GEORGE MUTTER mark 2 inch GREAVES and SONS toothed cutter a small chip at toe and a few dings at heel chewing of wood at top of toe. Mutter worked in London from 1766 through the end of the century. And a 12 inch long wooden spokeshave 4 inch edge sharp with only light rust hanghole. | Good | JSW11 29 | 30 | 60 | | |
| 6702-060 | 6702-060 Coachmakers router. 15 inch long body marked A. Parrhouse which looks like user brass plate on sole. one-sixteenth inch cutter wood looks like beech. Some overall wear as well as tarnish to brass. | Good | NHF73 | 30 | 60 | | |
| 6702-061 | *6702-061 Coachmakers double beader. Unmarked 15 inch body two half inch bead cutters held with wedges wood worn and metal rusty. | Good minus | LEE844 | 25 | 50 | | |
| 6702-062 | 6702-062 Coachmakers side router. Thats my best guess. 15 inch wood body with metal plate and cutting mechanism that has dual cutting edges on the side and what looks like slots for dual side nickers. Cutter head held in place by bolt through body and square nut. Part of mechanism near one of the two screws is broken off but does not seem to effect use. User initials and light staining inactive worm on one handle. | Good | DTN | 30 | 60 | | |
| 6702-063 | 6702-063 Lot of two double stem marking gauges. One is unmarked with 4-half inch wide body and 3 wedges to hold stems in place. Other has partial mark with -Dresden- and -Napp on 4 inch wide body with single wedge to lock stems. all 4 points ok or better unmarked one has a few chips on stems and other has a few chips on body. | Good | REW1032 1047 | 40 | 80 | | |
| 6702-064 | 6702-064 Lot of 3 tools. A cabinet scraper with two-part body made of what looks like boxwood and a mahogany sole appears user made with name J. CAREY stamped a few times. Brass screws hold 2-half inch cutter and body together chip in end of cutter. And two spokeshaves one made of rosewood with brass plate and thumbscrews cutter has illegible mark. And a beech one by FLATHER and SONS a few dings otherwise clean. | Good | NHF325 346 | 40 | 80 | | |
| 6702-065 | 6702-065 Lot of five wooden spokeshaves. Large 14-half inch wide one with GEO D CLEGG 15 Uxbridge Rd Shepherds Bush mark with hanghole partially through it 4 inch edge with brass plate user name. And four smaller unmarked ones one with brass plate and thumbscrews others plain most have some wear and staining. | Good | HAN598 | 35 | 70 | | |
| 6702-066 | 6702-066 Lot of two wood spokeshaves. One marked both -E MILLS and CO- and -BAGSHAW and FIELD PHILADELPHIA- with brass plate and thumbscrews user marks a few chips but generally clean. And an unmarked boxwood one with hanghole clean. | Good and better | RSR39 43 | 35 | 70 | | |
| 6702-067 | *6702-067 Coachmakers router. Unmarked 14 inch long body one-eighth inch double sided cutter remnants of felt pad on one side and hanghole on other. Tarnish to brass plates on top and bottom cutter held by what may be replacement nut. Some wear. | Good | OVR319 | 25 | 50 | | |
| 6702-068 | 6702-068 Peugeot Freres farriers buttress. 1-half inch edge sharp some pitting and rust on body wood handle has wear and checks. Lion mark. | Good | CLA792 | 30 | 60 | | |
| 6702-069 | *6702-069 ENTERPRISE MFG CO. No. 110 miniature sad iron. Looks like a childs iron or salesmans sample nearly 4 inches long with 1-1-77 patent date which must be a typo as thats a Monday but Enterprise has a January 16 1877 patent assigned to them for sad irons and number 110 with six-sided star cast around screw on top. A few spots of rust but overall clean. | Good | WOL735 | 20 | 40 | | |
| 6702-070 | 6702-070 Hoof leveller. Used by farriers in trimming horse hooves. Cast of heavy brass three-eighth inch thick with stamp rule on gauge arm. Marked -Made in England- and has nice old patina. | Good | LEE102 | 50 | 100 | | |
| 6702-071 | 6702-071 Sailors fid. Used for working with lines knots etc. Looks like a dark rosewood oblong shaped body with tapered end. A few small scratches on end and what looks like a tiny spot of varnish. | Good plus | REW1216 | 40 | 80 | | |
| 6702-072 | 6702-072 Miniature cant hook. The larger version is used for moving and handling logs but this is possibly a salesman sample as it is only 11 inches long with 4 inch hook. Unmarked red paint on handle is worn. | Good | DCR108 | 50 | 100 | | |
| 6702-073 | *6702-073 Crooked knife. 2 inch edge with notch at top 7 inch curved handle with brass ferrule. Unmarked but nicely made. Wood looks relacquered. | Good | DTN295 | 25 | 50 | | |
| 6702-074 | 6702-074 KUKER-RANKIN sighting level. Handheld sighting level patented by Otto Kuker of Seattle on New Years Eve 1929 and manufactured by the Kuker-Rankin Co. of Seattle. The black paint over the brass tube has some missing patches but the optics are clear original leather pouch worn. | Good | LEE86 | 30 | 60 | | |
| 6702-075 | 6702-075 EAST INDIA brass handled scissors. Marked with number 10 near screw joint nickel plating on blades 90 percent one marked -East India 1928.- A few spots of pitting but overall clean. | Good | WOL728 | 30 | 60 | | |
| 6702-076 | *6702-076 COCA-COLA bottle opener. Mounts to wall surface rust. Painted brown. | Good | RSR40 | 5 | 10 | | |
| 6702-077 | *6702-077 Jewelers hand vise. Unmarked with half inch spring jaws locked with wingnut. 4-half inches long total. | Good | LDZ94 | 10 | 20 | | |
| 6702-078 | *6702-078 Boy Scout brass bullet whistle. Stamped with Boy Scout logo and -Be Prepared.- On reverse side it states -The Boy Scouts of America.- 2-half inches long brass has a few tarnish spots. | Good | VTO80 | 15 | 30 | | |
| 6702-079 | 6702-079 T-level. A 2 inch and 2-half inch cast iron level in a T shape green vials wet. Flat head screws at each end to access the vials. | Good plus | RBN354 | 30 | 60 | | |
| 6702-080 | *6702-080 Lot of two small spokeshaves. One is brass with seven-eighth inch cutter and other is brass with nickel plating with three-fourth inch cutter. Both unmarked with a few rust spots. | Good | LEE135 | 10 | 20 | | |
| 6702-081 | 6702-081 Lot of two tools. A STANLEY No. 96 blind nailer chisel plane. Has -Pat Apl 10-88- on one cheek and Stanley on the other plating 90 percent throat good no chisel. And a small aluminum spokeshave 4 inches long with 1 inch cutter some discoloration on top of cutter otherwise clean. | Good | OVR252 253 | 75 | 125 | | |
| 6702-082 | 6702-082 PROTO TOOLS No. 370 all-angle drill IOB. Looks never used box has a few light stains but intact. Handle locks at any angle with knurled thumbscrew three jaw chuck. | Fine | LWN39 | 30 | 60 | | |
| 6702-083 | 6702-083 Lot of four push drills IOB. A GOODELL PRATT No. 1 with some wear to nickel plating two bits in container label inside lid stained but intact. A MILLERS FALLS No. 29 clean and looks barely used a couple bits box has wear at seams. A WIZARD with four bits in handle which still has protective film on it box has some wear. And a GARRETT WADE like new bits in handle end flap on box torn sells for 78 dollars new. | Good and better | HAN | 40 | 80 | | |
| 6702-084 | 6702-084 Lot of five tools IOB. A STANLEY dowel jig gently used and looks all there box has a couple split seams. Three YANKEE tools including a No. 35 screwdriver with 6 bits wood lightly worn box top end has split seams and wear and No. 41 push drill clean and looks barely used 8 bits original tag and instructions box gently worn and a No. 31A ratchet screwdriver clean and barely used 4 bits in tattered envelope box has some wear and sticker from J.P. Bixler and Sons Carlisle PA. And GENERAL No. 402 6 inch outside calipers inside a box that originally held 3 a few spots of rust and some dirt on box. | Good and better | RSR7 9 12-14 | 40 | 80 | | |
| 6702-085 | 6702-085 CLEAN CUT No. 770 folding saw vise IOB. Looks gently used with most of its original japanning and nickel plating marked with 8-13-1912 and 10-23-1913 patent dates corresponding to patent 1035166 by Joseph Dikeman of Dikeman Mfg. Co. Box bottom taped part of side lid detached and split seams but has good label on end. | Good | RML240 | 30 | 60 | | |
| 6702-086 | *6702-086 UNITED SHOE MACHINERY CORP tack cutting nipper IOB. Clean and unused 13-half inches long box has a stain or two but in good shape. | Good plus | LWN40 | 20 | 40 | | |
| 6702-087 | 6702-087 STANLEY No. 541 -Hercules- hand drill IOB. Near mint condition intact box with Type 9 label. | Fine | MKJ261 | 30 | 60 | | |
| 6702-088 | 6702-088 Lot of two scrapers IOB. A MERIT cabinet scraper fairly clean with 95 percent of original decal box dingy but mostly intact. And a CRAFTSMAN No. 3658 floor scraper lightly used with two cutters handle and grip ok with light use box clean. | Good plus | RML | 30 | 60 | | |
| 6702-089 | *6702-089 HOOK No. 3425 double end scraper IOB. Scraper looks never used with some flaking of varnish on knob otherwise clean. Comes with extra blades in cardboard tube. Box has some tears and wear on edges. | Good plus | RML239 | 25 | 50 | | |
| 6702-090 | *6702-090 RECORD No. 080 cabinet scraper IOB. Looks new with only a spot or two of discoloration on sole box gently worn but intact. | Good plus | RML | 25 | 50 | | |
| 6702-091 | *6702-091 Lot of tools IOB. A box of STANLEY No. 11-three-fourth nail sets for two-third2 inches 12 total plus a MILLERS FALLS and a Stanley H211 two-third2 inch nail punches also in the box all clean. Plus an AMERICAN FILE WORKS flat bastard file in box that originally held a dozen and CARBORUNDUM finished sticks three of them in a box that originally held a dozen. Boxes ok with light wear. | Good | HAN626 | 20 | 40 | | |
| 6702-092 | 6702-092 Lot of two STANLEY tongue and groove planes. A No. 48 with 80 percent plating knob good cutters unmarked. And a No. 49 with B casting mark 70 percent plating cutters unmarked some spots of surface rust knob has light wear. | Good | HAN635 | 50 | 100 | | |
| 6702-093 | *6702-093 STANLEY No. 48 swinging fence match plane. Nickel plating worn and some surface corrosion one cutter. | Good minus | BSR128 | 25 | 50 | | |
| 6702-094 | 6702-094 MILLERS FALLS No. 90 jack plane. Equivalent to the STANLEY No. 1204 clean with 99 percent japanning wood has miniscule wear lever cap has 99 percent plating and original decal. | Good plus | KNT11 | 30 | 60 | | |
| 6702-095 | 6702-095 Lot of two MILLERS FALLS bench planes. A No. 14 super clean with a spot or two of rust on top of cutter otherwise nice. And a No. 9C tote a little loose and some spots of rust japanning good no red paint on lever cap light wear. | Good and better | MHT44 | 40 | 80 | | |
| 6702-096 | 6702-096 Lot of two STANLEY tongue and groove planes. Nos. 48 and 49. Both early japanned types likely Type 1 as both have patent date under handle but No. 48 has brass knurled thumbscrews and No. 49 has flathead knurled screws holding replacement blades. Wood has light wear on both japanning 60 percent on 48 and 75 percent on 49. | Good | LHD30 | 75 | 150 | | |
| 6702-097 | 6702-097 STANLEY No. 39 three-fourth inch dado plane. T mark overstamped on cap screw japanning 80 percent some mild discoloration on sole and cheek. | Good | BSR129 | 40 | 80 | | |
| 6702-098 | *6702-098 STANLEY No. 148 match plane. Seven-eighth inch size but unfortunately missing cutters plating 75 percent some rust and user name stamped patent date on handle. | Good minus | OVR183 | 25 | 50 | | |
| 6702-099 | 6702-099 RECORD No. 778 duplex rabbet and filletster plane. Blue japanning 90 percent some surface rust cutter and throat ok good user. | Good | JCI12 | 30 | 60 | | |
| 6702-100 | 6702-100 Lot of two STANLEY rabbet planes. A No. 78 with sweetheart cutter japanning 80 percent some rust and paint on body and sole fence may be replacement. And a No. 378 japanning 80 percent notched rectangle mark on seven-eighth inch cutter has only two depth stops has two brass collars but one is missing screw. Some rust spots. | Good | JPR2 5 | 100 | 200 | | |
| 6702-101 | *6702-101 Lot of five block planes. Two adjustable throat made by SARGENT for CRAFTSMAN - a No. 3704 with replacement Stanley cutter and No. 5607 with CRAFTSMAN cutter some surface rust. A RECORD No. 09-half crack in one cheek. And two STANLEYs - a No. 101 finger plane rusty and a No. 103 with wooden replacement wedge and paint on sole. | Fair and better | JAR363 467-470 | 20 | 40 | | |
| 6702-102 | 6702-102 Lot of three MILLERS FALLS block planes IOB. A No. 75 No. 87 and No. 1455 all with 90-95 percent japanning. No. 1455 has some rust but other two mostly clean. Boxes for No. 87 and No. 1455 ok with one or two split seams and labels mostly intact. No. 75 box missing most of its bottom label ok. | Good | MHT46 | 35 | 70 | | |
| 6702-103 | *6702-103 Lot of four block planes. A DUNLAP with cracked knob and hanghole inside a Stanley No. 65 box and a late model STANLEY No. 220 IOB. Plus two STANLEY finger planes a No. 100 squirrel tailed japanning retouched and a No. 101 with 95 percent japanning. | Good minus and better | RSR4 10 40 122 | 25 | 50 | | |
| 6702-104 | 6702-104 Lot of two STANLEY block planes. An early No. 18 with throat adjusted by loosening front knob and patent date lever cap. Missing lateral adjuster and lever cap has crack traces of japanning and some pitting of sole cutter has nick in corner. And a No. 16 later type with most of its japanning third sweetheart mark on cutter very light surface rust in a few spots. | Good and better | RSR37 49 | 30 | 60 | | |
| 6702-105 | 6702-105 Lot of six block planes. A FOSTER aluminum block plane similar to Stanley 19 with no adjustable throat or lateral has -Foster 1 Kinsey Buffalo NY- cast into the body. Rest are STANLEYs including a No. 130 with patent dates and B mark cast into body traces of japanning on cap unfortunately bullnose end is broken off. Two No. 18 one is a Type 10 with 80 percent nickel and japanning chip in throat. Other looks like a Type 2 with patent date cap and throat adjusted with knob nickel 50 percent and japanning 80 percent. A No. 1120 Four Square with chip out of top of lever cap and japanning 70 percent some scratching of sole and a No. 220 with sweetheart lever cap 90 percent plating and japanning | Fair and better | BSR137 534 665 | 35 | 70 | | |
| 6702-106 | 6702-106 Lot of four MILLERS FALLS block planes. A No. 75 and No. 75B both stamped on cheek No. 75B has unmarked cutter and frog has forked holder for adjustment knob japanning 80 percent. The No. 75 has most of its japanning and overall clean. Plus a No. 16 with adjustable throat and most of its japanning and a No. 5 with 70 percent japanning and a few spots of rust. | Good | BSR159 | 40 | 80 | | |
| 6702-107 | 6702-107 VERITAS low angle block plane. Some spots of light rust on sole and could use a light cleaning otherwise looks barely used. These will run you 150 dollars new. | Good | JAR471 | 60 | 120 | | |
| 6702-108 | 6702-108 Lot of four planes. A MILLERS FALLS No. 4 bullnose overall clean with a few spots of rust and a No. 33C block plane in original unopened packaging. And a CRAFTSMAN thumb plane light use. Plus a STANLEY No. 75 bullnose in which someone has attached a center fence to the sole a few tiny nicks to throat. | Good | MHT49 | 35 | 70 | | |
| 6702-109 | 6702-109 Lot of three UNION block planes. Nos. 100 102 and 103. 50-70 percent japanning on the 100 and 103 the 102 is repainted. Some surface rust spots and light pitting on sole No. 100 throat may be slightly widened. | Good | BSR301 303 305 | 40 | 80 | | |
| 6702-110 | 6702-110 STANLEY No. 9-three-fourth tailed block plane. Looks like an early type with throat adjusted by turning front knob lever cap missing the locking mechanism and frog missing the cutter adjustment. Cutter has Bailey patent and user name. Tail knob has half inch chip out of the bottom and sole is pitted severely at toe and has a small hole. | Fair | UNK | 40 | 80 | | |
| 6702-111 | 6702-111 Lot of two STANLEY adjustable throat block planes. A No. 9-half looks to be a Type 5 japanning 50 percent some light scratching and pitting on sole a few dings on knob. And a No. 15 later type with notched rectangle mark on cutter and No. 15 stamped on left cheek japanning 90 percent with spots of light rust some discoloration on sole. | Good | JCI47 48 | 60 | 120 | | |
| 6702-112 | 6702-112 Jointer plane. Made of what looks like applewood unmarked 22 inches long with 2-half inch PROVIDENCE TOOL CO. cutter. Clean with a few age checks especially at heel scratches on sole tote has a few dings but no major damage. Attractive. | Good | GAN5560 | 40 | 80 | | |
| 6702-113 | 6702-113 J. SANDERSON jointer plane. A mark (3 stars) Sanderson worked from 1844-52 in both MA and NY. 25-three-fourth inch long beech body 2-half inch MOULSON BROS cutter with nice clean edge. Checks throughout body and sole tote has repair to tip but well done but overall a clean plane for age. User name on heel. | Good | GAN5561 | 40 | 80 | | |
| 6702-114 | 6702-114 BUFFALO TOOL CO. rabbet plane. B mark (4 stars) possibly a ship rabbet with razee body and tote beech body is 17 inches long and 5 inches tall 1-half inch skew cutter. Unfortunately missing both nickers some mild dinging and one spot of inactive worm near heel. | Good | GAN194 | 50 | 100 | | |
| 6702-115 | 6702-115 Lot of two jack planes. 15 inch one with initials A.S.W. on toe 2 inch TILLOTSON cutter sole replaced in front of throat tote ok and overall clean. And a 16 inch one by GLADWIN and APPLETON A mark 2 inch MOULSON BROS cutter tote has minor dinging on edges throat has light chipping of wood. | Good | GAN5562 | 30 | 60 | | |
| 6702-116 | 6702-116 PRESTON and SONS jointer plane. 22 inches long with side tote on left cheek some chips to end of tote good button at toe mark on toe upside down 2-half inch Preston cutter some staining to body but sole in good shape dinging at toe and heel. | Good | GAN5563 | 35 | 70 | | |
| 6702-117 | 6702-117 Bridgebuilders rabbet plane. See Whelan pg. 93. 27-half inches long with tote resembles a jointer with 3 inch skewed cutter and nicker on right cheek. Unmarked body has stains and some dings age checks wedge lightly chewed tote ok other than chip at front base small chip in cheek at throat. | Good minus | HOO10 | 35 | 70 | | |
| 6702-118 | 6702-118 Lot of two planes. A jointer plane unmarked with adjustment knob behind the cutter and wood wedge with decorative wingnut going through it to hold cutter. Not sure if its patented or a user modification. 22 inch body 2-half inch unmarked cutter throat is crudely carved out dings and chips in body and some water damage or age fading to wood stains. Throat has some checks. Plus a primitive European style smoothing plane with integral handle at toe replacement sole has been nailed on and is worn and chipped possibly French as it has a BREVETE GOLDENBERG cutter spalled. Crack at toe above where it is marked with number 28 and general age wear and chipping. | Good minus | LEE131 158 | 40 | 80 | | |
| 6702-119 | 6702-119 Lot of two wooden planes. Both unsigned and user made. A 17-half inch grooving plane with leather lined fence integral grip built into body and pull rope holes. And a double shoulder rabbet 13-half inch wedge badly worn a half circle cutout in the body behind the toe. | Good | DTN289 354 | 40 | 80 | | |
| 6702-120 | *6702-120 Grooving plane. 15-half inches long unmarked integral handle at heel wedge a replacement and fence repaired rope hole at toe. Age checks and wear. | Fair | HAN627 | 20 | 40 | | |
| 6702-121 | 6702-121 A. MATHIESON flooring raglet dado plane. See Whelan pg. 139. Stout 9-half inch long dado with tote inlaid at an angle on left side 2-half inch wide sole with steel lined fence three-eighth inch cutter nicker and wedge at toe. Some stains and scrapes on one cheek small hole in toe and heel wedges and tote have light wear. Repaired section behind throat. Unusual. | Good minus | DTN395 | 40 | 80 | | |
| 6702-122 | 6702-122 Lot of two V planes. A handled V plane with fences attached on both cheeks with screws cuts 1 inch V wedge a little chewed wear and checks in wood small repair behind the throat. And a car beading plane (see Whelan pg. 207 and fig 10.71) unmarked 13-one-fourth inch long beech body with grooves in cheeks for grip V shaped cutter fits into groove in throat so no wedge body consists of two halves held together with screws and wood pegs some stains and hanghole at toe. | Good minus and better | DTN393 394 | 35 | 70 | | |
| 6702-123 | 6702-123 Sash molding plane. Unmarked but looks European decorative grooves on cheeks with right cheek having a stepped pattern 1-half inch wide cutter plane is 11-half inches long. Some wood putty on left cheek near toe plus rope hole some age stains and checks. | Good | DTN278 | 30 | 60 | | |
| 6702-124 | *6702-124 Decoratively carved round plane. Unmarked decorative groove on right cheek serves as grip three-fourth inch wide cutter has been fashioned out of a larger blade as it has partial stamp chip at throat wear on right cheek at heel from use repaired chip at toe. | Good | HAN641 | 25 | 50 | | |
| 6702-125 | 6702-125 KEEN KUTTER coffin plane. Both toe and 2 inch cutter have sawtooth mark these planes were manufactured by Ohio Tool for Simmons Hardware Co. at the turn of the 19th century. Body fairly clean with a few small stains some dinging at heel and crack in sole at throat. Lacquer on knob about 50 percent cutter has nicks. | Good | HAN636 | 30 | 60 | | |
| 6702-126 | *6702-126 Lot of two horn planes. Both unmarked one with flat sole and 1-three-fourth inch unmarked cutter other has compassed sole (rounded heel to toe) and 1-three-fourth cutter that looks marked HEINRICH DIERIG. Staining chipping and some inactive worm. Surface rust on metal. | Good minus | HAN595 | 20 | 40 | | |
| 6702-127 | *6702-127 Compassed sole coffin plane. Sole compassed from cheek to cheek 1-five-eighth inch cutter also concave toe and heel carved to sit back a bit and sole extends out about an inch in front and back. Some wear and inactive worm looks to be made from oak. | Good | HAN644 | 25 | 50 | | |
| 6702-128 | 6702-128 Lot of two planes. A short coffin plane with 5-half inch brass plated sole 1-half inch cutter unmarked light wear. And an 8 inch long round plane made of mahogany and looks like two halves glued together 1-one-fourth inch cutter fashioned from larger blade light wear nicely made. | Good | CLA536 590 | 30 | 60 | | |
| 6702-129 | 6702-129 Lot of two planes. A toothing plane by MATHIESON and SON 2 inch toothed cutter by same maker scratching on sole dings on heel. And a coffin plane by E.W. CARPENTER 2-one-eighth inch BUTCHER cutter light wear to wood crack in left cheek right behind wedge and blade age checks in sole. | Good minus and better | HAN602 | 40 | 80 | | |
| 6702-130 | *6702-130 User made rabbet plane. 1 inch cutter has anvil stamp with R.T. inside it body made of boxwood and has 3-half inch by 2-half inch sole with 3 inch tail shim glued behind cutter in throat some chips. | Good minus | HAN645 | 20 | 40 | | |
| 6702-131 | 6702-131 Large wooden square. Made of oak 16-half inch handle and 22-three-fourth inch edge finger jointed together and held in place with four wood pegs. Unmarked light wear and age checks nice decorative end on edge. | Good | CLA351 | 30 | 60 | | |
| 6702-132 | *6702-132 Panel gauge. Unmarked except for user initials 21 inches long and made of beech fence locked with wedge. Some chips in body and water damage. Hanghole. | Good | BHR665 | 20 | 40 | | |
| 6702-133 | 6702-133 Rosewood panel gauge. Unmarked but 25 inch stem ruled user initials some chips along edge and age checks a few stains. Nice brass locking thumbscrew. | Good | LDZ93 | 35 | 70 | | |
| 6702-134 | 6702-134 ASTON and MANDER parallel rule. The model invented by Captain William Field in the mid-19th century 18 inch boxwood and brass marked 1940. Generally clean and undamaged. Also marked on wood B3102 with arrow. Inside user made hinged box. | Good plus | DST251 | 40 | 80 | | |
| 6702-135 | 6702-135 Panel gauge. 14 inch mahogany stem with rosewood head marked with user names wooden locking thumbscrew points on both ends of stem but only one has brass plate. Light wear. | Good | LDZ95 | 35 | 70 | | |
| 6702-136 | 6702-136 STANLEY No. 85-half panel gauge. Made with mostly sapwood with only one end having the typical darker rosewood. Brass ok with some scratching on point plate some staining on underside of stem hole through stem near point light wear and a few chips. | Good minus | BHR647 | 40 | 80 | | |
| 6702-137 | 6702-137 Lot of two shoe rules. A 16 inch long LUFKIN No. 8221 some flecks of paint and staining partial decal for Bob Smart on inside of fixed end. And a KERBY BROS with ivory inlay on end of stem and on fixed end. Some wear user name stamped on stem missing brass button near hanghole light wear and crack in one of the ivory inlays. | Good | DST253 254 | 50 | 100 | | |
| 6702-138 | 6702-138 Lot of seven boxwood rules. All but one STANLEY including Nos. 52 54 61-half 62C caliper 70 and 84. Nos. 52 and 84 about half have Stanley Rule and Level marks on inside No. 62C has sweetheart mark. Brass tarnished on most. Plus one unbound that only is marked No. 67 and clean. Pins ok on most. | Good minus and better | BHR679 | 60 | 120 | | |
| 6702-139 | 6702-139 Lot of six STANLEY caliper rules. Two No. 32-half two No. 13-half a No. 36 and a No. 3. All with light wear some spots of tarnish on brass. A few have pins missing and small chips. | Good | BHR677 | 60 | 120 | | |
| 6702-140 | 6702-140 Lot of two STANLEY rules. A STANLEY No. 036 combination rule with wet vial blade pretty clean some stains on wood and tarnish on brass small chip on one end. Plus a No. 72-half sweetheart mark a bunch of circles punched in one area on inside pins missing otherwise clean. | Good | LHD119 | 60 | 120 | | |
| 6702-141 | 6702-141 Lot of three rules. A LUFKIN No. 863L fourfold two-foot folding rule with a level in the edge a few stains on wood brass looks likely polished vial wet. A CHAPIN-STEPHENS No. 78-half brass tarnished slightly sprung a few stains. And a STEPHENS and CO. No. 65 with various scales on inside pins missing wear on outside tarnish to brass. | Good minus and better | BHR676 | 100 | 200 | | |
| 6702-142 | 6702-142 WITTER patent double bevel. Patented by Frank Witter of Canterbury CT on 2-22-87 and manufactured in NYC has very faint patent date and consists of distinctive brass and rosewood body with knurled brass rounded ends nickel plated double blade in which the second blade folds entirely into the backside of the body. Stamped several times with user name and same name lightly engraved into brass. Rare. Plus we are throwing in an unmarked traveler 8 inch wheel with moderate rust. | Good minus and better | PNG51 | 125 | 250 | | |
| 6702-143 | *6702-143 Lot of six tools. Four bevels including a 6 inch STANLEY No. 25 a 8 inch OAKLEAF unmarked 8 inch and 5 inch fixed bevels both with pitting on blades and brass ends some staining on other two. 13 inch wood dividers with metal wing and locking wingnut and 22 inch double calipers rusty. | Good minus and better | LKY16 40 | 25 | 50 | | |
| 6702-144 | 6702-144 Lot of three measuring tools. A 13 inch wood bevel made of what looks like mahogany user name stamped into body and some water spots brass hinge. A patented universal square by DURY and SHINN MFG CO. small 4 inch size stamp a little worn light surface rust. And a GREEN RIVER 8 inch wheel traveler heavily pitted and surface rust. | Good minus and better | CLA317 358 362 | 35 | 70 | | |
| 6702-145 | 6702-145 Artillery clinometer. Marked -Quadrant Gunners M1 Minneapolis Honeywell 1943- and -C44899-2.- Vial wet brass tarnished and some spots of rust. | Good minus | PNG35 | 30 | 60 | | |
| 6702-146 | 6702-146 Lot of two STANLEY No. 21 combination squares. Both are versions without scratch awl 6 inch and 9 inch sizes plating 85-90 percent both have sweetheart mark. | Good plus | RSR37 | 30 | 60 | | |
| 6702-147 | 6702-147 Mortar clinometer. Brass body used for artillery and likely British from WWII era marked -Clino Mortar MK IV No. 16618 1944- with winged M logo. A few spots of tarnish vial dry. | Good minus | JRI757 | 30 | 60 | | |
| 6702-148 | 6702-148 CLEVELAND RULE CO. log scale rule. 36 inches a few stain spots slight bend to body. | Good | AND14 | 30 | 60 | | |
| 6702-149 | *6702-149 SOUTHINGTON CUT CO. carpenters square. Marked with number 14 and initials TWC which tag on square says is for Thomas Westerman Cartledge from Bainbridge NY and was the bridge construction superintendent for Kellog and Maurice Union Bridge Co. and American Bridge Co. Some spots of rust but generally clean. | Good | AND20 | 25 | 50 | | |
| 6702-150 | 6702-150 Lot of four marking gauges. Three STANLEY No. 65 two with triangle head and notched rectangle marks where one has -Patent Pending- beneath and other has patent dates beneath and a square head with sweetheart mark. One has W.I.S.H.S. Wood lightly scratched into stem and hole near it. Some wear and light stains on all. Plus unmarked one made of ebony and boxwood with nice inlay pattern of stripes and triangles laminated thumbscrew brass plate on head. Pin missing and some light wear but otherwise nice. | Good | HAN | 40 | 80 | | |
| 6702-151 | 6702-151 Lot of three rosewood mortise gauges. Two STANLEY No. 77s both have wear and one has some lacquer on one end pins ok some dings to wood one missing plated bar. And one by DISSTON and MORSS also with some lacquer on end a few scrapes and dings to wood brass has a few spots of tarnish. | Good | HAN | 40 | 80 | | |
| 6702-152 | 6702-152 Lot of three gauges. Two mortise gauges one rosewood and one ebony Scottish style both unmarked with some wear and ebony one has replaced pin. Plus a beech marking gauge fairly worn with hang hole in stem brass locking thumbscrew. | Good | NHF69 | 35 | 70 | | |
| 6702-153 | 6702-153 Lot of four gauges. A marking gauge similar in style to a STANLEY No. 60 with rosewood stem and brass plate and head an unmarked slitting gauge with wood locking screw and brass inlay on head. Plus two mortise gauges one is a STANLEY No. 77 and other unmarked both rosewood and similar in style. Wear on all but points ok or better. | Good | BKF155 157 161 162 | 40 | 80 | | |
| 6702-154 | 6702-154 Lot of two STANLEY gauges. A No. 66 rosewood marking gauge round head with brass trim and plated bar patent date on stem. Brass tarnished near pin otherwise clean. And a No. 77 mortise gauge with a couple of small chips and dings otherwise clean. Pins good on both. | Good | HAN | 35 | 70 | | |
| 6702-155 | 6702-155 Lot of two rosewood gauges. A marking gauge with brass trim around the wood thumbscrew unmarked some wear and a few chips on end of stem pin ok. And a HENRY DISSTON and SONS mortise gauge some tarnish around adjustment screw at end of stem pins ok light wear on edges but overall clean. | Good | HAN | 35 | 70 | | |
| 6702-156 | 6702-156 KEEN KUTTER mortise gauge. Clear mark on head rosewood with brass trim pin ok but brass around it is tarnished. Some dings from locking screw light wear. | Good | DOR267 | 30 | 60 | | |
| 6702-157 | 6702-157 Ebony mortise gauge. Ultimatum style brass trim and thumb grip flathead locking screw unmarked. Light wear but overall clean pins good. | Good plus | CLA501 | 35 | 70 | | |
| 6702-158 | 6702-158 STANLEY No. 92 butt and rabbet gauge. Stanleys -top of the line- gauge used for laying out door hinges and strikes but can also be used as a marking gauge. Patent date marked on head has the often missing steel scribe brass and wood clean with nice figure in rosewood. | Good plus | HAN651 | 70 | 140 | | |
| 6702-159 | 6702-159 Lot of three rosewood gauges. A No. 66 rosewood marking gauge round head with brass trim patent date on stem missing plated bar and user initials on stem. A DISSTON and SONS mortise gauge marked No. 95-half under makers mark some tarnish to brass light wear to wood. And unmarked one with brass plate and trim wood thumbscrew stamped 39 on stem pins worn some fading to wood. | Good minus and better | HAN | 35 | 70 | | |
| 6702-160 | *6702-160 Lot of four No. 4 sized bench planes. Makers are MILLERS FALLS SEARS CRAFTSMAN and PARPLUS. All used and worn MF knob base half missing and chip in cheek Craftsman lacquer highly worn chips on wood and discoloration of metal on all lever caps may be incorrect on a few. | Good minus | MRA128 150 158 159 | 25 | 50 | | |
| 6702-161 | 6702-161 Lot of four bench planes. Two No. 5 sized ones including a GREAT NECK G-5 clean but missing label on lever cap tote is replaced with nicely laminated one some rust on blade and one that looks like a Stanley base but has replaced knob and cutter is D.R. BARTON no frog adjusting screw chip in front cheek and traces of japanning. Plus two No. 4 sized ones including one marked TRUSTWORTHY which is a line sold by Salt lake Hardware Co. and made by Sargent in the 1950s fairly clean with a few cracks at base of knob and 95 percent japanning and a MARSH M4 manufactured by H.C. Marsh of Rockford IL before it was acquired by Stanley heavy duty plane traces of japanning tote may be relacquered wear to knob otherwise ok. | Good minus and better | BSR164 165 169 171 | 30 | 60 | | |
| 6702-162 | 6702-162 Lot of three bench planes. Two by MILLERS FALLS a No. 140CBG and a No. 14 both clean with only a few spots of surface rust japanning near complete look never used. And a No. 4 sized CRAFTSMAN No. 3742 japanning near complete surface rust and some wear to wood. | Good | MHT45 | 30 | 60 | | |
| 6702-163 | 6702-163 Lot of three bench planes. Two STANLEYS a No. 4 with sweetheart cutter and kidney lever cap japanning 90 percent some light pitting and a Defiance No. 1204 clean with a little discoloration on sole. And a GOODALL iron bench plane Samuel I. Goodall manufactured planes from 1894 to 1896 in Philadelphia until Stanley bought them out and made both metallic and wood bottom planes. 8-half inches long tained tote and knob unmarked cutter. Looks like a Bailey knockoff. | Good | BSR130 142 663 | 35 | 70 | | |
| 6702-164 | *6702-164 Lot of two bench planes. A SARGENT No. 408 later type clean noting some loss of lacquer on wood. And a CAPEWELL 9 inch sole japanning seems repainted brown wood has some wear. | Good | KNT9 10 | 25 | 50 | | |
| 6702-165 | 6702-165 Lot of two planes. A UNION No. X3 vertical post japanning 90 percent some wear to wood and tote has crack that needs repairing replacement Lakeside cutter some discoloration of metal and throat looks widened. Has a welded repair in left cheek. And a SIEGLEY No. 4C traces of japanning tip of tote chipped off some discoloration of metal left cheek has large chip. | Good minus | CLA91 93 | 50 | 100 | | |
| 6702-166 | *6702-166 Lot of four planes. Two FULTONs one has partial decal on tote some paint on wood and wear to lacquer. A DUNLAP wood worn but otherwise fairly clean. Plus a STANLEY No. 220 block plane japanning 95 percent replacement cutter. | Good | MRA96 125 126 149 | 25 | 50 | | |
| 6702-167 | 6702-167 STANLEY No. 8 jointer plane. Early Type 5 with first lateral and J mark on cutter japanning 80 percent wood good tote may have some smoothed over chips at top. | Good | LHD144 | 50 | 100 | | |
| 6702-168 | 6702-168 Lot of two jointer planes. A UNION No. 6 japanning 85 percent wood has a few chips but nothing major has replacement Stanley patent date cutter. And a STANLEY No. 7 japanning retouched mainly in front notched rectangle lever cap but patent date cutter some chips off end of totes tall knob some surface rust. | Good | DOR100 114 | 40 | 80 | | |
| 6702-169 | 6702-169 Lot of two DERBY PLANE CO planes. Formerly Birmingham Plane Co a No. 7 and a No. 3. See PTAMPIA II pg. 137. Both have B Plane cutters wood worn and knobs have some cracks lacquer worn. Japanning 80 percent-90 percent. | Good | BSR629 632 | 75 | 150 | | |
| 6702-170 | 6702-170 Lot of two STANLEY prelateral bench planes. A No. 5 Type 4 with replaced blade with T mark japanning 60 percent throat widened knob has dinging and tote cracked and missing tip. And a No. 6 Type 2 tip of tote chipped and has paint on one side knob has dings japanning 75 percent some surface rust. | Good minus | BHR654 | 60 | 120 | | |
| 6702-171 | 6702-171 STANLEY No. A5 aluminum body jack plane. Light overall scratching and nicks as typical for aluminum planes. Replacement lever cap from a Bedrock tote has 70 percent of decal but unfortunately cracked knob has light wear cutter has notched rectangle mark. | Good | OVR243 | 60 | 120 | | |
| 6702-172 | 6702-172 Lot of three STANLEY bench planes. A prelateral No. 4 Type 4 some chips off end of tote throat looks widened japanning 75 percent. And a prelateral No. 5 also a Type 4 repaired crack in tote base japanning 40 percent some light pitting. Plus a Liberty Bell No. 104 Type 2 japanning 75 percent wood ok patent dates on cutter. | Good | LHD128 | 100 | 200 | | |
| 6702-173 | 6702-173 Lot of two STANLEY Bedrock planes. A No. 605 Type 4 with 4C mark on cutter has B casting on frog wood clean with only tiny chips off tote japanning 90 percent and touched up some surface rust. And a No. 606C looks like a Type 4 but no patent date behind frog or Made in USA B mark on frog 1C mark on cutter. Tote has tip broke off and is wrapped in tape so likely cracked as well knob has dings and wear japanning 65 percent surface rust. | Good minus and better | OVR348 | 75 | 150 | | |
| 6702-174 | *6702-174 Large iron brace. Smith made good wooden iron bound head and grip setscrew chuck 14 inch sweep. | Good | CLA274 | 20 | 40 | | |
| 6702-175 | 6702-175 Lot of two iron braces. Both smith made with wooden heads (one an unusual large square shape). One has a 14 inch sweep and friction fit chuck the other has an 8 inch sweep and a hand-forged thumbscrew with -H- cast into it. | Good | LDZ129 130 | 30 | 60 | | |
| 6702-176 | 6702-176 Lot of two iron braces. Both smith made one with a square body head turned from burl with some çhecks spoon bit in chuck with handforged thumbscrew some surface pitting 7 inch sweep - the other is an armourers type with friction chuck large turned head 9 inch sweep. | Good | HAN608 | 30 | 60 | | |
| 6702-177 | 6702-177 Lot of two steel braces. A ball grip type with nicely turned head and grip 8 inch sweep wide flat chuck with heart shaped thumbscrew - the other has hexagonal body and lever-operated chuck 7 inch sweep. | Good | HAN609 | 30 | 60 | | |
| 6702-178 | 6702-178 Lot of two steel braces. TAYLOR patent type with no spring in chuck catch steel head surface corrosion and some paint spotting - 8 inch sweep. And a heavy cast iron one with hole for square tang bits - copper grip 7 inch sweep. | Good | NW822 825 | 30 | 60 | | |
| 6702-179 | 6702-179 Lot of two steel braces. One ball grip type with nicely turned head and hand forged thumbscrew chuck 7 inch sweep - the other has a lever operated chuck and flat steel head 8 inch sweep. | Good | CLA275 276 | 40 | 70 | | |
| 6702-180 | 6702-180 Lot of two patented braces. One by L.L. DAVIS with the Bolen patent chuck early type with gunmetal chuck sleeve and gutta percha grip about 50 percent nickel but chuck works smoothly 8 inch sweep - and a Spofford patent chuck by FRAY AND PIGG 10 inch sweep good mark very clean. | Good and better | HAN609 | 50 | 90 | | |
| 6702-181 | 6702-181 RUSBY patent extendible drill. One of the most gimmicky of the breast drills with its extendible neck to fit into tight locations - breast pad is missing as it almost always is as well as one side handle other two worn rusty but two jaw chuck ok. Japanning 65 percent. | Good minus | NW722 | 30 | 60 | | |
| 6702-182 | 6702-182 European hand drill. Square chuck with thumbscrew brass collars below handle and gears. Nicely made and clean. | Good plus | VTD17 | 35 | 70 | | |
| 6702-183 | 6702-183 Lot of three hand drills. GOODELL-PRATT No. 5-half 60 percent of japanning side handle has worn lacquer two bits in head some rust on chuck and jaws look broken. MILLERS FALLS No. 1 japanning 60 percent three jaw chuck has loose jaws but good plating wood worn 5 bits in head. And STANLEY No. 624 japanning 70 percent but has most of red paint on gear wood worn 3 jaw chuck good 7 bits in head. | Good minus and better | VTD2 29 45 | 30 | 60 | | |
| 6702-184 | 6702-184 Lot of two corner drills. A STANLEY No. 984 wood worn with chips traces of orange stripes on chuck jaws ok. And same style one by KEEN KUTTER mark on chuck plating 90 percent wood has light wear handle collar has crack. | Good minus and better | HAN616 | 40 | 80 | | |
| 6702-185 | 6702-185 STANLEY No. 982 corner brace. Designed to fit between joists and in other tight spaces. This one is nice with most of its nickel plating some spots of light rust handle has very light wear. Jaws good. | Good | DOR283 | 35 | 70 | | |
| 6702-186 | 6702-186 Lot of two tools. A MILLERS FALLS No. 108 angle brace attachment with 65 percent japanning two jaw chuck good with user initials punched into it moderate wear. And a GOODELL-PRATT No. 83 universal corner brace square chuck head has several chips traces of japanning and user initials stamped onto body. | Good minus and better | FNK542 546 | 50 | 100 | | |
| 6702-187 | 6702-187 STANLEY No. 610 pistol grip hand drill. Sweetheart mark red paint gone and flaking on nickel traces of japanning discoloration on metal jaws a little loose. | Good minus | VTD3 | 60 | 120 | | |
| 6702-188 | 6702-188 LOWENTRAUT -20th Century- wrench brace. Patented in 1901 by S. J. Johnson and manufactured by Lowentraut this is an early version marked -P. Lowentraut Newark NJ- and -Patented- on either side of the head. Unfortunately missing wood grip and has rust on most of body. Wood head has some wear of lacquer but no major damage. | Good minus | GFR192 | 35 | 70 | | |
| 6702-189 | *6702-189 Lot of two wood planes. A tongue plane stamp faint and looks like it starts with -.OAK - looks early with offset tote rope hole in front fence screwed on wear and scraping to wood inactive worm cutter slightly spalled and rusty chips to tote. And a jack plane unmarked with 2 inch cutter marked -Made in Sheffield - wood very worn in some spots and overall highly stained tote has broken off and reattached but still loose sole scraped user initials. | Fair | CLA598 599 | 20 | 40 | | |
| 6702-190 | *6702-190 Lot of two jack planes. Both unmarked a 21 inch long one with 2 inch cutter wedge very short tote offset wood has chips and wear two wood pegs on right cheek near tote light v shaped marks on left cheek look decorative as well as circles at heel crack at throat on sole. And 23 inch long one with slightly rounded sole and cutter 2-three-fourth inches wide diamond button near toe tote slightly offset overall stained from use. | Good minus | HAN632 | 25 | 50 | | |
| 6702-191 | *6702-191 Lot of two razee jack planes. An 18 inch unmarked one that is likely European as the cutter is marked -57mm - decorative lines scratched into body light wear. And a 16 inch one by AUBURN marked 16 on toe tote has some chipping and screw at base 2-one-eighth inch BUTCHER cutter button good some staining and checks in wood. | Good minus and better | CLA593 594 | 25 | 50 | | |
| 6702-192 | 6702-192 Crown molder plane. 5-three-fourth inches wide body with 5-half inch wide JAMES CAM cutter side fence screwed on likely dates to early 19th century initials JP on toe. age checks wear and staining two shallow holes on top of body near toe. Wedge and tote have chipping. | Good minus | BHR | 40 | 80 | | |
| 6702-193 | 6702-193 PRATT and CO panel raising plane. C mark. 16 inches long 2-half inch skewed cutter with partial stamp that I cant make out brass depth stop and nicker ok tote clean with light wear 125 stamped into throat two holes in sole which may have been original holes for moving fence chipping at toe. | Good | CLA547 | 35 | 70 | | |
| 6702-194 | 6702-194 UNION FACTORY No. 15 tongue and groove pair. three-eighth inch tongue plane and groove plane both marked No. 15 on heel A mark on toes BUTCHER cutters both have moving fences and groove has steel skate. Tongue tote tip chipped off some staining on both wear and small chips. | Good | REW557 | 50 | 100 | | |
| 6702-195 | *6702-195 Modified badger plane. It looks like a bader plane with vertical handle at the heel that someone sloppily nailed a one-fourth inch strip to sole to serve as fence but it is about one-eighth inch from edge. Unmarked 1-half inch skewed cutter age checks in wood. | Good minus | NHF28 | 25 | 50 | | |
| 6702-196 | 6702-196 PARKER HUBBARD and CO large panel raising plane. 5-half inch wide body 4-one-eighth inch wide skewed I.J. WHITE cutter tote and toe have a few chips some stains. Replaced wedge is unstained. | Good minus | BHR652 | 40 | 80 | | |
| 6702-197 | 6702-197 Lot of two mid-19th century planes. A single boxed 1-half inch ogee by J.M. SLATER a two-star Detroit planemaker from 1845-60 heel marked six-eighth boxing has one crack and some age checks in plane especially at heel. And a 1-one-fourth inch skew rabbet by A.B. SEMPLE and BRO a three-star Louisville KY hardware dealer from 1848-1856. Some wear and staining from age user stamps and someone stamped a line pattern on heel and toe wedge chewed | Good | GFR151 156 | 40 | 80 | | |
| 6702-198 | 6702-198 ALLEN and CO side rabbet pair. 4 star mark from this Providence RI hardware dealer. Left and right side rabbet matching user stamps on both. Some surface rust on irons light wear and a few paint flecks. One wedge missing finial other plane has cutter that doesnt look quite proper. | Good minus | WCS39 | 40 | 80 | | |
| 6702-199 | 6702-199 Lot of two double match planes. A SARGENT No. 671 heel marked seven-eighth some stains and wear light wear on wedges but overall in good shape. And one marked five-eighth by SEYBOLD - B mark- some dings and spots of surface rust wedges have light wear. | Good | REW546 549 | 40 | 80 | | |
| 6702-200 | 6702-200 Lot of six AUBURN TOOL CO. beading planes. All have same user stamp. three-sixteenth inch one-fourth inch three-eighth inch and three-fourth inch single boxed side beads all marked No. 105 at heel. one-fourth inch has broken boxing at toe others ok with some light stains. Plus 1 inch and 1-one-eighth inch center beads both marked No. 189 at heel some stains. | Good | GAN5564 | 50 | 100 | | |
| 6702-201 | 6702-201 Lot of three eighteenth century G DAVENPORT hollow planes. 4-star Massachusetts maker from 1780-90. A 1-one-fourth inch with A mark and half inch and one-fourth inch with B mark. half inch is missing its finial on wedge and one-fourth inch one looks like replacement wedge. Some wear and staining green paint on half inch dinging on cheek of 1-one-fourth inch and throat has been widened to more of a rabbet escapement shape all have some worn chips or scratching which isnt uncommon for planes over 200 years old. | Good minus | WCS36 | 100 | 200 | | |
| 6702-202 | 6702-202 Lot of two H WETHERELL planes. A mark on two side beads half inch and five-eighth inch as marked on heel both beech but five-eighth inch has darker stain and has nice lignum boxing wear to toe of half inch one staining on both and cracks in lignum boxing. | Good minus | TKY143 | 45 | 90 | | |
| 6702-203 | 6702-203 Lot of five LUFKIN tape measures. Two 100 feet tape a White Clad and a Chrome Clad light wear to cases but tapes clean. A 10 foot cloth tape in yellow metal case tape a little dirty but readable case slightly worn. A Reliable 50 foot in leather case tape has first few inches repaired with a DIETZGEN wear to leather. And an Artisan 20 foot metal case tape has some light rust. | Good | MHT39 | 50 | 100 | | |
| 6702-204 | *6702-204 Lot of five calipers and dividers. Three outside calipers - 12 inch ones by STARRETT 8 inch ones by GENERAL and 6 inch wing style by P. LOWENTRAUT. And two dividers - 6 inch spring ones by GENERAL and 5 inch wing style unmarked. A few have surface rust. | Good | AED53 54 57 60 63 | 25 | 50 | | |
| 6702-205 | 6702-205 Lot of three calipers and dividers. GOODELL-PRATT 6 inch spring inside calipers surface rust. And two dividers one by BEMIS and CALL with 8-half inch legs wing style and with 9 inch legs wing style by O. STODDARD with 3-31-1885 patent date and partial stamp heavy brass construction locking wing with vernier fine adjustment legs can either be extended or removed entirely and a pencil substituted some pitting and rust on cast iron. | Good | OVR350 | 40 | 80 | | |
| 6702-206 | 6702-206 Lot of measuring tools. Four plumb bobs three steel and one brass 4 inch to 2-half inch in length generally clean. STANLEY No. 4 trammel points early style but no pencil holder points look replaced plating 75 percent. A STANLEY No. 90 marking gauge clean with most of its plating STANLEY No. 97 marking gauge rusty with 70 percent plating notched rectangle mark on screw. And a HUTCHISON twelve-in-one tool patented and supposedly made of German silver two pocket sized rules are connected with locking thumbscrew and can be angled in various ways. | Good and better | OVR153 245 | 50 | 100 | | |
| 6702-207 | 6702-207 Lot of six calipers. 3 inch leg calipers with brass hinge 3 inch double calipers 3 inch 3-half inch and 6 inch outside calipers 6 inch wing dividers. All unmarked with surface rust. Smallest outside calipers highly oxidized. | Good minus and better | LKY28 | 40 | 80 | | |
| 6702-208 | *6702-208 Lot of three tools. A STANLEY Defiance No. 1210W pocket tape new in original box box worn and a little tattered. An EVANS white tape replacement 8 feet with original instructions in original box. And 5-half inch HILGER and SONS spring dividers clean. | Good | NHN31 | 25 | 50 | | |
| 6702-209 | 6702-209 Lot of four measuring tools. Two caliper rules including a 6 inch one-fold boxwood and brass CHAPIN-STEPHENS No. 36 clean and a 12 inch one fold LUFKIN No. 372 a few stains. Vernier calipers made of brass and iron ruled in both metric and inch on either side locked with thumbscrew. No makers mark some surface rust. And 12 inch bevel with handle made of brass and ebony metal pitted with surface rust locking flathead screw. a few dings in wood unmarked. | Good | DCR316 | 35 | 70 | | |
| 6702-210 | 6702-210 Lot of nine pocket tapes. All but two are STANLEY including Nos. H1260 348W 6386 7366 1260 and 7506. Plus two by LUFKIN including one for The Master Builders Co Cleveland OH and a Mezurall. All generally clean with a couple having wear to the tapes. | Good | R271 | 30 | 60 | | |
| 6702-211 | *6702-211 Lot of four measuring tools. STARRETT 12 inch outside calipers P.S. and W. 8 inch wing dividers 8 inch STANLEY No. 25 bevel with sweetheart mark and CHESTERMAN 50 foot tape in leather package. | Good | AND6 8 10 | 25 | 50 | | |
| 6702-212 | 6702-212 Lot of three bevels. An 8 inch Type 2 STANLEY No. 25 with faint patent date on handle a 14 inch by TIDGEWELL and CO. and a 12 inch by H. TOWER and CO. All three have discoloration on blades some wear to wood and Tidgewell has a few paint spots and tight crack in handle. | Good | LHD124 | 30 | 60 | | |
| 6702-213 | *6702-213 Lot of four measuring tools. 6 inch and 14 inch try squares with rosewood handles smaller has trifoil and larger quatrefoil escutcheon. Larger has pitting on blade smaller has rosewood separating from brass side plate. Plus two marking gauges one looks handmade and unmarked other is a STANLEY No. 65 with patent date some wear and staining crack at end of stem repaired with screw. | Good minus | LKY15 30 | 25 | 50 | | |
| 6702-214 | 6702-214 Lot of ten pocket tapes. 7 are by LUFKIN including an engineers 10 foot tape one with Midland Paper Company logo two Pee-Wees and three Mezuralls plus one by DUNLAP and two by BARLO including one with logo for Howell Tractor Equipment. Several have wear and a few look new. Four are in original packaging others in clear plastic boxes. | Good and better | MHT38 | 40 | 80 | | |
| 6702-215 | 6702-215 Lot of five tools. Two STANLEY squares including a 7-half inch No. 2 with pitted blade and a 6 inch No. 20 with blued blade with sweetheart mark some surface rust. An unmarked marking gauge with nail as the point and wood thumbscrew RUSSELL BROS. wing calipers rusty and 10 inch STANLEY No. 25 bevel with patent date mark on blade and highly worn. | Good minus and better | DSD14 16 36 51 72 | 30 | 60 | | |
| 6702-216 | 6702-216 GOODELL PRATT double stem marking gauge. Clean with most of its nickel plating cutters at ends are good. | Good plus | RSR39 | 35 | 70 | | |
| 6702-217 | 6702-217 Lot of four bevels. All unmarked 12 inch 10 inch 9-half inch and 8 inch in size 10 inch has brass inlay in ogee shape all have rusty and pitted blades wear and staining to wood with largest having worst and water damage. | Good minus | HAN597 | 30 | 60 | | |
| 6702-218 | 6702-218 Lot of four measuring tools. Three squares including a STANLEY No. 10 Type 1 12 inch pitting to blade and a few dings to rosewood. A clean 6 inch blued blade with rosewood handle and brass edge. A 12 inch mitre square with four brass diamond escutcheon user initials pitting on blade and hang hole. And a 6 inch bevel with brass and rosewood handle and a decorative brass locking wingnut. | Good | RSR35 | 50 | 100 | | |
| 6702-219 | 6702-219 Lot of four try squares. Three are 7-half inch including two STANLEY No. 2 and one with three brass diamond escutcheon a couple have pitting on blades. And 10 inch one with quatrefoil escutcheon and a few dings in handle. | Good | HAN596 | 40 | 80 | | |
| 6702-220 | 6702-220 Lot of three STANLEY try squares. A 9 inch No. 10 Type 1 (originally the No. 1) with cast iron framed rosewood handle unruled hanghole and user name stamped on handle and blade. Some scratching but overall clean. A No. 2 combined try and mitre square Type 2 with Winterbottom patent dates on handle 7-half inch size some pitting and light wear. And what looks like a No. 20 12 inch with brass quatrefoil in handle overall clean with some wear looks polished. | Good | LHD122 | 60 | 120 | | |
| 6702-221 | 6702-221 Lot of four STANLEY squares. Two No. 2 combination try and mitre square 7-half inch with New Britain stamp and 9 inch with 2-8-98 patent date mark and various user stamps. Plus a Type 3 No. 20 try square 9 inch some wear and a gouge in handle. And a No. 10 Type 2 6 inch some spots of rust and light wear. | Good | OVR300A | 60 | 120 | | |
| 6702-222 | 6702-222 Lot of two STANLEY tools. A 12 inch No. 25 bevel Type 2 clean with only a few spots of light pitting. And a No. 20 try square 4-half inch Type 2 user initials on handle and light pitting on blade. | Good | BSR420 421 | 30 | 60 | | |
| 6702-223 | 6702-223 Lot of two STANLEY No. 2 try squares. Type 1 with lead fill around rivets one has very faint patent date both 6 inches with moderate pitting and a few dings. | Good | LHD125 | 40 | 80 | | |
| 6702-224 | 6702-224 Lot of two STANLEY No. 1 Winterbottom patent try and mitre squares. 6 inch and 8 inch sizes with lead fill around the rivets. Smaller size has stars carved into handle and light pitting staining and fading of wood. Larger one has some rust spots letter W carved into lead fill wear to wood. | Good minus and better | DOR78 83 | 45 | 90 | | |
| 6702-225 | 6702-225 TOPPs framing square. Type 2 blade has light tarnish but all markings legible handle has wear and scratching. | Good | LHD139 | 30 | 60 | | |
| 6702-226 | 6702-226 STANLEY No. 1 improved try square. 3 inch some light pitting faint mark on end but unfortunately has hang hole through it some dinging and small chips in wood. | Good | LHD126 | 50 | 100 | | |
| 6702-227 | 6702-227 Try square with level vial. Rosewood handle unruled 11 inch blade brass edge with 2-half inch level vial that is unfortunately dry quatrefoil escutcheon. Some large scrapes in handle and a few dings pitting on blade. | Good minus | LHD136 | 30 | 60 | | |
| 6702-228 | 6702-228 Lot of two squares. What looks like a STANLEY No. 20 7-half inch with some light pitting and moderate wear to handle user stamps brass slightly polished. And one made of cherry with nicely mortised handle 11-half inch edge and 9 inch handle some staining and wear and a few chips. | Good | JSW25 26 | 30 | 60 | | |
| 6702-229 | 6702-229 PEARSON patent automatic nailer IOB. Sometimes described as the first nail gun the nails are loaded into a tin container and fed into the chamber where they are driven by striking the plunger with a hammer. Usually found as a rusted mess this one is nice and clean with clearly legible Pearson and Linde 1907 stenciling and patent date cast into handle. The plunger has clearly been hit many times. In black painted wood case with leather handle. | Good | BSR453 | 80 | 120 | | |
| 6702-230 | 6702-230 Turning tool set in carrying case. 12 tools total including 3 gouges 2 skew chisels one round point a parting tool and a spear point all with BUCK BROS handles. Plus four different types of hollowing tools with different handles. All blades are unmarked look gently used inside homemade carrying case with leather handle. Also inside case are two outside calipers a file and some sandpaper. Some wear on handles. | Good | MSV19 | 60 | 120 | | |
| 6702-231 | *6702-231 Cobblers last and four shoes. 14 inch tall last with 4 inch wide base unmarked but mostly clean. Plus four shoes two large and two small. Small ones have numbers 5 and 2. Number 5 has chip at front edge of hole. | Good | ESY59 140 | 25 | 50 | | |
| 6702-232 | 6702-232 STANLEY No. 77 doweling machine . Could use a cleaning but japanning 85 percent handle has some staining to wood and light wear surface rust and -VOC Machine Shop- stamped on end. Unfortunately someone decided to mill out the Stanley Vee mark on the gear metal stem of handle and part holding square dowel holder have been repaired but welding seems solid still works well. Has 5 cutters - one-fourth three-eighth half five-eighth and three-fourth. Inside nice user made finger jointed box with brass hinge and latch on front. Also included are two original instruction sheets one has some rust spots and other has torn in half. | Good minus | FNK2 | 200 | 400 | | |
| 6702-233 | 6702-233 Metalworking mold. Could be a bullet mold but looks a little too large for that three-fourth to 1-three-fourth inch diameter molds two halves hinged at end and meet together to create circular mold all go about 2 inches deep. Rusty wood handles ok. | Good | MRA20 | 30 | 60 | | |
| 6702-234 | *6702-234 Lot of two hide tools. Scraper and chopper both with wood handles with wear from use one looks like it has replaced edge other has user initials carved in handle both unmarked. | Good | HAN610 | 25 | 50 | | |
| 6702-235 | 6702-235 Lot of two pump drills. Both unsigned one has 13 inch steel shaft with cast brass flywheel turned rosewood handle old leather straps. Split chuck with old bit might need some penetrating oil to get it off. Other with 10-half inch steel shaft with brass flywheel nicely turned boxwood handle leather cord is broken no bit. | Good minus and better | DSD7 | 30 | 60 | | |
| 6702-236 | *6702-236 Coopers file. 2-half inches long in a boot shape with worn file edge 4-half inch wood handle has some splitting and wear from age. | Good | LDZ194 | 20 | 40 | | |
| 6702-237 | *6702-237 Lot of miscellaneous tools. A soldering iron copper looks smith made with large wood handle wrapped in two pieces of wire. A COLLINS Dynamcut ball peen hammer clean with a few small dings in metal handle has wear but intact. And a RIVERSIDE large masonry trowel 10 inches long handle has wear on end. | Good | AND4 7 17 | 20 | 40 | | |
| 6702-238 | 6702-238 J and J SIDDONS No. 3 cast iron glue pot. Painted black copper insert with some paint on inside overall clean with some light wear. | Good | PLH | 30 | 60 | | |
| 6702-239 | *6702-239 RIPPER MFG CO Best Bet hacksaw. Two handles hacksaw blade moves on track and controlled by one handle. Marked Ripper Mfg Co Best Bet Vancouver BC Pats Pending. Some staining on handles and surface rust. | Good minus | UNK | 20 | 40 | | |
| 6702-240 | 6702-240 Lot of two ENTERPRISE cherry stoners. A No. 16 has been repainted black with gold paint around mouth edge and a No. 18 with 20 percent nickel plating. No. 16 has replacement screw and hex nut instead of wingnut. Both work fine. | Good | REW1805 1806 | 30 | 60 | | |
| 6702-241 | 6702-241 Lot of six cast iron stove lid lifters. Different shapes and sizes a couple are nickel plated most clean but a few have rust. Makers include MOORE ESTATE GARLAND. | Good | BSR524 | 40 | 80 | | |
| 6702-242 | 6702-242 Hardwood flooring jack. Marked -Patent Applied For- on arm head not fixed to allow for angle use. One floor anchor missing in rear of base. 60 percent japanning user name scratched into one side. | Good | LEE117 | 30 | 60 | | |
| 6702-243 | *6702-243 BUFFALO MFG CO. oil can. Brass 3-three-fourth inch base missing cap on end of spout and button doesnt seem to work. Gently polished. | Good minus | CLA786 | 20 | 40 | | |
| 6702-244 | *6702-244 Hay hook. Approximately 12 inches long with 3-half inch wide hook. Attached through 4-half inch wood handle with stains and some chips from age. | Good | DTN467 | 20 | 40 | | |
| 6702-245 | *6702-245 Sad iron and trivets. ENTERPRISE MFG CO. sad iron fairly clean with light wear plus five trivets made by UNION MFG CO COLEBROOKDALE IRON CO. ENTERPRISE MFG CO. B and D and one unmarked in a heart shape. | Good | EMN55 56 | 25 | 50 | | |
| 6702-246 | *6702-246 Lot of two juicers. A WARNER WARE cast aluminum one in the shape of a small cast iron pan 7 inches across a few spots of oxidation but overall clean. And a hand juicer by X-RAY with aluminum and japanned cast iron some spots of light rust and japanning 80 percent. | Good | LEE99 | 20 | 50 | | |
| 6702-247 | 6702-247 Lot of 10 ice cream scoops. 8 are the mechanized scraper type including 4 by GILCHRIST 1 by MYERS 2 HAMILTON BEACH 1 by NAPAKO. And two conical ones including one with thumbscrew that controls scraper including patented one by Henry Keiner and Edward Williams with KW thumbscrew and other is mechanical by GILCHRIST with wood handle and spring activated. Some have wear and rust overall ok. | Good | EMN | 40 | 80 | | |
| 6702-248 | *6702-248 Patented powder and shot measure. Marked with February 25 1890 patent date and B.G.I. Co. (BRIDGEPORT GUN IMPLEMENT CO.). Nickel plated round holder 1 inch tall and half inch wide with 4-half inch wood handle. Generally clean with light use. | Good | LHD | 20 | 40 | | |
| 6702-249 | *6702-249 Lot of two VERITAS cornering tools. One has one-eighth and one-sixteenth ends other has three-sixteenth and one-fourth ends. Both made in England look unused. | Good plus | JPM6 | 20 | 40 | | |
| 6702-250 | 6702-250 PHOENIX MFG CO. saw swage. Patented by Albert White of Eau Claire WI and manufactured by Phoenix this is the first and earlier version without the arched slotted bar patented 8-3-97 (No. 587 539) as it most closely resembles the first patent. Traces of japanning nickel plating 70 percent handles have wear and cracks in wood a couple spots of rust. Uncommon. | Good | PDM9 | 50 | 100 | | |
| 6702-251 | 6702-251 ILLINOIS IRON and BOLT CO. No. 1 Vulcan anvil. 15 pounds half inch hardy hole with hardy 9 inches by 2-half inches base is painted black surface rust but face is in good shape. | Good | MHT50 | 50 | 100 | | |
| 6702-252 | 6702-252 Bench mounted anvil. 9 inch by 2 inch 10 pounds holes in base to screw to bench unmarked three-eighth inch hardy hole. Some dings on edges light surface rust. | Good | MHT48 | 40 | 80 | | |
| 6702-253 | 6702-253 GOLDING patent print lead cutter. Marked with patent 206781 by W.H. Golding of Chelsea MA consists of locking brass bar that holds print leads beneath cast iron handle which moves jaws up and down to cut the leads. Mounts on table or bench japanning 75 percent a little surface rust and a chip in end of bar. | Good | ALV630 | 40 | 80 | | |
| 6702-254 | 6702-254 Lot of four miniature anvils. 2-half inches to 4 inches in size one mounted on a wide base with traces of nickel plating others have spots of surface rust all unmarked | Good | SAN256 | 30 | 60 | | |
| 6702-255 | *6702-255 Brass anvil. 3-half inch anvil mounted to wood platform painted black brass has a spot of tarnish wood has light wear. | Good | LEE112 | 25 | 50 | | |
| 6702-256 | *6702-256 Lot of two miniature anvils. Roughly 4 inches long both have surface rust one has bottom painted black. | Good minus | MHT47 | 25 | 50 | | |
| 6702-257 | 6702-257 Scythe peening anvil. Also called a denglestock and hammered into stumps to dress scythe blades in the field. Looks to be 18th century and likely European in origin handforged. Some surface rust. | Good | WOL344 | 30 | 60 | | |
| 6702-258 | 6702-258 Lot of seven blacksmithing tongs. Types include hollow bit close bit pipe grab and open bit in various lengths from 18 inch to 6 inch. All look handforged surface rust. | Good | LDZ192A | 50 | 100 | | |
| 6702-259 | 6702-259 -THE BOSS- beam boring drill. Patented December 19 1882 date is and cast on yoke along with -The Boss- made by LAMBERT BROS and CO. in Union City IN. Looks to be missing top gear piece rusty and needs cleaning seems to work but dont hold me to it. Supposedly folds up for transport but would need some TLC to do. Wood base has wear and some inactive worm wood handles ok with light wear. | Good minus | ESY | 40 | 80 | | |
| 6702-260 | 6702-260 Lot of four wooden levels. A 28 inch DISSTON and SONS No. 6 a 28 inch CHAPIN STEPHENS CO. brass tips a 26 inch -OVB- No. 0 by HIBBARD BARTLETT and SPENCER and a 28 inch STANLEY No. 0 carpenters. Wood is generally worn and finish gone but no real damage brass good big hangholes in the Disston and Stanley. | Good | LHD | 80 | 140 | | |
| 6702-261 | 6702-261 Lot of four wooden levels. A 26 inch STANLEY No. 3 adjustable has all its brass - a 26 inch BEDORTHA BROS. No. 0 - a 28 inch DISSTON and MORSS plain type without the side grip and no brass tips - and a 28 inch STRATTON BROS. unusual light wood no brass binding missing one tip hang hole. | Good minus and better | LHD112 | 60 | 100 | | |
| 6702-262 | 6702-262 Lot of three wooden levels. A 30 inch cherry DISSTON and SONS very clean but with a small hanghole - a 28 inch KEEN KUTTER made by Disston very clean with brass porthole surround and a 28 inch brass bound STRATTON BROS. No. 1 early type with no brass lips on level vial wood is very faded but I think rosewood - weve seen it this light on very old levels. | Good and better | NHF193 199 | 100 | 180 | | |
| 6702-263 | 6702-263 Lot of two wooden levels. A 26 inch TOWER and LYON with good working WOODS pop up sights cherry wood has wear but no serious damage user initials carved in side. And a 28 inch D.W. LYON with brass tips looks like mahogany worn but decent brass dinged up a little hang hole. | Good | REW305 | 100 | 160 | | |
| 6702-264 | 6702-264 Lot of seven machinists bench levels. Two STANLEY No. 34s a 6 inch in nice condition and an uncommon 10 inch japanned model with bubble dry but intact a STARRET 6 inch shafting level an ACME triangular two sheet metal levels based on Leas 1930 patent one a CONQUEROR LEVEL CO. No. 43 and one that weve seen a lot of but dont know who made. | Good and better. | HAN | 60 | 120 | | |
| 6702-265 | 6702-265 Lot of two STANLEY machinists levels. A No. 39-half later type with checkered sides and an 8 inch No. 34V. Both nice and clean with minimal nickel loss and good bubbles. | Good plus | UNK | 40 | 80 | | |
| 6702-266 | 6702-266 DAVIS LEVEL and TOOL inclinometer. Later type with delicate filigree areas missing from both sides no gold paint extra clean inclinometer dial top screws missing. | Good minus | CLA13 | 50 | 100 | | |
| 6702-267 | 6702-267 DAVIS LEVEL and TOOL inclinometer. 18 inch model with the heavier filigree no breaks chips or bad corners looks like a few faint traces of gold highlighting. Good dial with user name engraved on rear. | Good plus | LEE103 | 150 | 250 | | |
| 6702-268 | *6702-268 Carpenters adze. Unmarked but clean with some surface pitting 14-half inch edge 25 inch handle slightly curved at end with a few stains but no major damage. | Good | SPM620 | 25 | 50 | | |
| 6702-269 | 6702-269 Broad axe. Unmarked 6-half inch edge clean with one or two spots of surface rust very nice 31 inch handle with bulbous end. Edge has nick that could be honed out. | Good | RUS34 | 30 | 60 | | |
| 6702-270 | 6702-270 BEATTY and SON broad axe. Cow mark 6-half inch edge a few dings on head some spots of surface pitting. 27 inch handle looks original and in good shape except for a little splitting where it meets the blade. | Good | SPM488 | 40 | 80 | | |
| 6702-271 | 6702-271 Replica boarding axe. 30 inches long cast metal (not iron) head leather wrapped handle. Not old but would look nice on the wall. | Good plus | HNL570 | 35 | 70 | | |
| 6702-272 | 6702-272 Lot of two PLUMB axes. A more modern All American with 85 percent of decal and 90 percent of original black paint. Surface rust on 3-half inch edge red handle has mild wear. And a double bit Champion with embossed logo traces of surface rust 4 inch edges of handle has some staining and wear. | Good | RUS31 32 | 50 | 100 | | |
| 6702-273 | 6702-273 Lot of two KEEN KUTTER carpenter hatchets. One with 2 inch edge and one with 3-half inch both with some chips on hammer head. Clean handles have some wear and chip off end of another one. | Good | CAN64 70 | 40 | 80 | | |
| 6702-274 | 6702-274 Lot of two broad hatchets. A BELL SYSTEM without the square hole usually seen 4 inch slightly dull edge handle nice and likely a replacement very light surface rust. And a WINCHESTER 4 inch sharp edge clean handle has black cloth tape wrapped at end for grip. | Good | RUS263 264 | 35 | 70 | | |
| 6702-275 | 6702-275 Lot of two axes. A COLLINS 3-half very clean with a few scratches on head and dings on end but edge and handle are pristine. And a KEEN KUTTER edge has been curved at top some surface rust chips and staining on handle. | Good and better | RUS45 46 | 40 | 80 | | |
| 6702-276 | 6702-276 Cutter mattock. A combo of an axe and adze unmarked 4 inch axe edge and 3 inch adze edge some surface rust but edges ok. 32 inch long handle lightly worn with hanghole. | Good | RUS44 | 30 | 60 | | |
| 6702-277 | 6702-277 Lot of two hatchets. A KEEN KUTTER broad hatchet some discoloration and surface rust 4-half inch edge small chip in top edge handle has wear and a few stains. And a FULTON with 3 inch edge with a few small nicks handle very worn and has a large chip near head. | Good minus and better | RUS35 36 | 35 | 70 | | |
| 6702-278 | 6702-278 DISSTON No. 16 straight back saw. 26 inch with some light discoloration good nib 1896-1917 medallion visible etch 6 tpi wheatsheaf handle has light wear and top horn repaired. | Good | BFS328 | 30 | 60 | | |
| 6702-279 | 6702-279 DISSTON A.J. Wilkinson No. 44 saw. 22 inch handsaw with Disston medallion and etch that reads -Manufactured Expressly for A. J. Wilkinson and Co 44 Boston Mass by Disston and Sons Philada PA Spring Steel Warranted.- Good nib handle has some wear to lacquer and mild chipping but no major damage some discoloration on blade and spot or two of mild pitting 10 tpi. | Good | BFS350 | 50 | 100 | | |
| 6702-280 | 6702-280 DISSTON No. 16 straight back saw. 28 inch with 1888-1890 medallion but has dots instead of stars. Some moderate discoloration end of saw blade wheatsheaf handle worn with user initials but no major damage 5 tpi. | Good | BFS327 | 30 | 60 | | |
| 6702-281 | 6702-281 Lot of two English backsaws. One by TAYLOR BROTHERS 10-half inch steel back well marked by Taylors Adelaide Works on the reverse good medallion and a brass backed KENYON in which the back protrudes above the handle 13 inch no medallion split nuts. Both have been sharpened repeatedly and are pretty short both have decent lambs tongue handles. | Good | DJS374 670 | 60 | 100 | | |
| 6702-282 | 6702-282 Lot of two SIMONDS saws. 22 inch handsaw with Disston medallion and etch that reads -Manufactured Expressly for A. J. Wilkinson and Co 44 Boston Mass by Disston and Sons Philada PA Spring Steel Warranted.- Good nib handle has som wear to lacquer and mild chipping but no major damage some discoloration on blade and spot or two of mild pitting 10 tpi. | Good | BFS330 332 | 50 | 100 | | |
| 6702-283 | 6702-283 Lot of two hardware dealer handsaws. Both with Warranted Superior medallions so possibly made by Disston. A 26 inch with FRYE PHIPPS and CO etch Boston some discoloration on blade 7 tpi wheatsheaf on horn part of handle only chip on lower horn user initials. And one with BARBER and ROSS Washington D.C. etch 28 inch blade is discolored and has some pitting wheatsheaf handle with chip on underside of top horn 4 tpi. | Good | BFS326 343 | 40 | 80 | | |
| 6702-284 | 6702-284 KEEN KUTTER flooring saw. 18 inch blade discolored but has faint Keen Kutter etch handle has wheatsheaf pattern and locking lever moderate wear to wood and a spot of paint but horns ok. | Good | CAN76 | 35 | 70 | | |
| 6702-285 | 6702-285 Turpentine hack. Scores pine tree bark to make turpentine. Hand forged handle is 16 inch long with heavy solid iron knob on the end. Could be a large timber workers tool. | Good | DJS366 | 60 | 120 | | |
| 6702-286 | 6702-286 Lot of three HENRY DISSTON and SONS handsaws. A No. 12 26 inch 10 ppi crosscut back corner of blade missing handle repaired with a screw a No. 42 combination with a replaced handle in which the holes for the medallions are too large blade only 18 inches missing scratch awl and a 14 inch steel back clean with chip on underside of top horn. | Good minus and better, | DJS301 | 60 | 120 | | |
| 6702-287 | 6702-287 LENTZ and SONS surgeons bone saw. Nickel plated steel 8 inch removable blade some very light rust. Manufactured by George Lentz and Sons of Philadelphia. | Good plus | JCI46 | 50 | 100 | | |
| 6702-288 | 6702-288 PILLING surgeons bone saw. 8 inch long blade index finger hole looks like nickel plated rather than stainless. The Philadelphia company founded by George Pilling claims to be the oldest manufacturer of surgical instruments in the world. | Good plus | HNL403 | 50 | 100 | | |
| 6702-289 | 6702-289 SIMONDS No. 72 commemorative saw. Blue 200 medallion good etch on 26 inch blade 5 tpi some discoloration and light surface rust. There are a few cracks in the handle and user stamps. | Good minus | BFS331 | 50 | 100 | | |
| 6702-290 | 6702-290 Lot of five food choppers. All unsigned iron blades with wooden handles moderate surface rust. | Good | RSH525 | 50 | 100 | | |
| 6702-291 | *6702-291 Wood mallet. 6 inch by 3 inch 10 inch handle. Some dinging on ends and a few age checks but overall clean. | Good | ESY76 | 25 | 50 | | |
| 6702-292 | 6702-292 Collector made bench plane. The works of a Stanley Liberty Bell No. 27 transplanted to a very attractive laminated body with a matching laminated knob by the late Lloyd Lucas of Danville IL a nice job. Hairline cracks in cheeks at throat. | Good | HNL956 | 40 | 80 | | |
| 6702-293 | 6702-293 D.R. BARTON croze. Triangular cutter and plane body both marked by Barton. One chip from the top of the plane body otherwise looks like it could have been made last week. Unusual to find a croze marked by a maker such as Barton. | Good plus | DJS426 | 60 | 100 | | |
| 6702-294 | *6702-294 KEEN KUTTER mallet. Clear mark chips on edges and large chip on underside. | Good minus | CAN155 | 20 | 40 | | |
| 6702-295 | 6702-295 Lot of three mallets. All unmarked and possibly user made pristine. Carvers mallet and two with rounded ends. | Good plus | RBN82 | 35 | 70 | | |
| 6702-296 | 6702-296 Lot of miscellaneous wood items. Two wood clamps one has square nail as a stopper noisemaker a wooden hex wrench a string winder a tap and a user made marking gauge with rounded ends. All clean and unmarked. | Good | ESY74 | 30 | 60 | | |
| 6702-297 | 6702-297 ISRAEL O. BEATTIE boxwood plow plane. A mark (2 stars) Beattie was a hardware dealer from Middletown NY in the mid-19th century. Nice creamy boxwood body and fence unhandled nuts look like beech. Some chipping and cracks at toe and at top of plane where wedge meets body. large crack in right cheek fading on one shoulder threads moderately chipped. A pretty plane in need of some TLC. | Fair | NHF1 | 30 | 60 | | |
| 6702-298 | 6702-298 BENSON and CRANNELL handled plow plane. Beech with boxwood nuts treads have a few chips nice finials on end of arms and shoulders nuts have some dings but no cracks wedge slightly chewed tip of tote ok fence boxed and has a few chips at toe and around screws. | Good | REW457 | 35 | 70 | | |
| 6702-299 | 6702-299 CASEY and CO handled plow plane. Beech body with boxwood nuts boxed fence has knurled brass screw to lock depth stop instead of typical thumbscrew. Wedge chewed moderate chipping on threads small crack where wedge meets body dings and chipping on nuts but no major cracks tip of tote ok. | Good minus | REW459 | 30 | 60 | | |
| 6702-300 | 6702-300 OHIO TOOL CO. No. 100 screw-arm plow plane. Beech with boxwood arms and nuts tote with OTCs right-hand grip and only a few small chips on end. Threads overall ok with one or two chips and some chipping at ends hairline crack in shoulder near brass cap wedge chewed and unmarked cutter. Overall in decent shape. | Good | NHF2 | 50 | 100 | | |
| 6702-301 | 6702-301 A and E BALDWIN unhandled plow plane. Beech body and fence with boxwood nuts and shoulders. Outer nuts are nicely turned and wider than usual small chip on one otherwise good. One or two chips in threads dinging on heel some wear on front corner of fence wedge a little chewed and cutter spalled. Some checks in shoulders. A few stains but overall decent. | Good | JRI893 | 30 | 60 | | |
| 6702-302 | 6702-302 Lot of two handled plow planes. One by A.C. BARTLETT a No. 124 with A mark beech body with boxwood arms and nuts fence is boxed. Threads have moderate chipping SANDUSKY cutter. Only apology is a major chip from the tote. Sandusky Tool Co. cutter. A pretty plow worth fixing. Bartletts A mark. Other is unmarked boxwood nuts and rest is beech also moderate chipping on threads wedge chewed staining spots skate rusty tote ok. | Good minus | JRI95 1045 | 30 | 60 | | |
| 6702-303 | 6702-303 MARTEN DOSCHER plow plane. Beech tote was added at later time and attached with iron plate on top and bottom and pretty well done. Wedge chewed some chipping to threads cracks in nuts checks in wood. | Good minus | REW46 | 30 | 60 | | |
| 6702-304 | 6702-304 Nearly complete set of OHIO TOOL hollows and rounds. No. 72 set numbers 1 through 9 missing a No. 5 round but has extra No. 3 hollow so it has 8 complete pairs and 18 planes total. Overall clean with a few spots of staining on some cutters have clean edges surface rust on a couple and a few have light chipping at throats or toes. O. Denney user mark on most. Cleanest Ohio Tool hollows and rounds set Ive seen in awhile. | Good | BEN22 | 200 | 400 | | |
| 6702-305 | 6702-305 EVANS patent flexible sole plane. Often mistaken for the later and more common Stanley No. 13 this plane was patented by George Evans of Maine in 1862 and manufactured by R.H. Mitchell. This is the version without the brass plate. Lever cap screw looks original but missing the patent may have been polished. Unmarked cutter body repainted. | Good | DJS127 | 60 | 120 | | |
| 6702-306 | 6702-306 STANLEY No. 605C Bedrock plane. Sweetheart mark on cutter 60 percent decal on tote which has a repaired crack near base and light chipping on tip tall knob has some scratching. Japanning 80 percent some light pitting on right cheek. | Good | GRN | 60 | 120 | | |
| 6702-307 | 6702-307 STANLEY No. 5-half jack plane. Later model with replaced vee mark cutter tote has some yellow paint black lacquer worn surface rust. Hanghole at heel repaired crack on right cheek. | Good minus | GRN29 | 25 | 50 | | |
| 6702-308 | 6702-308 STANLEY No. 95 edge trimming plane. Later type with notched rectangle mark on body and on cutter japanning nearly complete. | Good | HNL706 | 60 | 120 | | |
| 6702-309 | 6702-309 Lot of two bullnose rabbet planes. A Stanley No. 90 made in England decent condition with small nickel loss and the internal set screw chewed up. And an oddball similar to a 90 but slightly smaller and japanned. | Good | HNL703 704 | 60 | 100 | | |
| 6702-310 | 6702-310 Block plane. Unmarked and probably user made. Very heavy steel casting 4-five-eighth inches long 1 inch cutter. Nicely made. | Good plus | HNL664 | 60 | 120 | | |
| 6702-311 | 6702-311 BRASS GROOVING PLANE. Brass grooving plane. Unmarked but similar to others weve seen. Cast brass with dark wood inlay on tote and knob with some scarring. Cuts a three-sixteenth inch groove up to seven-sixteenths inch deep. Nicely made. | Good plus | HNL897 | 60 | 120 | | |
| 6702-312 | 6702-312 Set of STANLEY No. 46 cutters in wood box. 10 cutters - no slitter. Box has wear and a crack but cutters clean. | Good minus | PTL67 | 100 | 150 | | |
| 6702-313 | 6702-313 MONTGOMERY WARD saw filing tool No. 84-356 IOB. Looks to be all there tattered instructions at the bottom japanning 95 percent looks barely used. Box has hole and some tattering. | Good plus | DT143 | 25 | 50 | | |
| 6702-314 | 6702-314 STANLEY No. 42X pistol grip saw set IOB. Looks never used with 99 percent japanning and a little surface rust bos has a few split seams and some bent spots label 75 percent. Includes instruction booklets. | Good plus | DT149 | 40 | 80 | | |
| 6702-315 | 6702-315 STANLEY No. 59 doweling jig. Tool clean with a few spots of rust includes 6 dowels and instructions for No. 59 and for No. 77 doweling machine. Box tattered but label 99 percent. | Good | DT151 | 25 | 50 | | |
| 6702-316 | 6702-316 STANLEY No. 75 bullnose rabbet plane. Made in USA clean with complete japanning some surface rust box ok with 95 percent of sweetheart label. | Good plus | DT150 | 30 | 60 | | |
| 6702-317 | 6702-317 Lot of two block planes IOB. A STANLEY 9-half in a Handyman No. H1247 box plane clean with a few spots of rust has original store tag. A couple split seams on box one rip in top. And a MILLERS FALLS No. 56 rust on metal but japanning ok. Box tattered with hole in lid. | Good | DT141 148 | 30 | 60 | | |
| 6702-318 | 6702-318 STANLEY No. 80 scraper IOB. Made in England clean with some spots of surface rust on sole includes original paper. Box a little bent on sides of base and some stains and hole in lid. | Good plus | DT142 | 30 | 60 | | |
| 6702-319 | 6702-319 MASON and PARKER MFG CO. Little Jim Model Tool Chests for Boys. Mason and Parker mainly made steel pressed toys from 1899-1907 but after 1907 focused on wooden products including their popular boys tool chest. This one is not marked with model number but does say it was made for J.C. Penney Co. 17 inch x 7 inch x 3 inch with rusty latches and handle. Tools include rule metal try square and t-square hacksaw scratch awl marking gauge chisel screwdriver handsaw and mitre box plus two envelopes containing small nails and glue pellets. Red handles on a few of the tools match the red paint on box label intact but has some water damage on left side. Outer paint worn tools clean. | Good plus | RBN | 50 | 100 | | |
| 6702-320 | 6702-320 Lot of two boys tool chests. An ELITE TOOL CHEST No. 510 with chicken coop illustration good on inside lid fingerjointed box has lift out tray Tools include mitre box and saw hammer plumb bob plane rule t-tap and nails. There is some staining from lacquer on inside edges of box which doesnt match lid stain. And THE BOYS NATIONAL TOOL CHEST No. 400 label inside lid has water damage but 90 percent there one hinge loose has most of the tools listed on the label but not sure if theyre original. | Good minus | RBN167 | 30 | 60 | | |
| 6702-321 | 6702-321 Lot of two draw knives. 14 inch wide flat blade by L and IJ WHITE clearly marked with good solid original handles and one with a touchmark that we couldnt read 14 inch with surface rust but no damage. | Good and better | CLA732 | 40 | 80 | | |
| 6702-322 | 6702-322 Lot of two draw knives. A 10 inch flat blade knife by L and I.J. WHITE clearly marked with good solid original handles and a 13 inch curved blade by SNOW and NEALLEY of Bangor ME with original paper label near new. | Good plus | DOR? | 60 | 100 | | |
| 6702-323 | 6702-323 Lot of two draw knives. An 8 inch SIMMONS and a 12 inch D.R. BARTON. Both have surface rust but no damage or pitting good sharp blades solid clean original handles. | Good plus | DST276 279 | 50 | 80 | | |
| 6702-324 | 6702-324 GEO BARNSLEY and SONS draw gauge. All steel good original blade mild surface rust. | Good | GRN33 | 30 | 60 | | |
| 6702-325 | 6702-325 KEEN KUTTER draw knife. 8 inch blade good solid handles mark a little faint but clear. | Good plus | CAN156 | 40 | 70 | | |
| 6702-326 | 6702-326 Router shave. 15 inch across brass with 3 inch steel blade. Nice and clean. | Good plus | OVR366 | 30 | 60 | | |
| 6702-327 | 6702-327 Lot of four drawknives. 6-half inch D.R. BARTON with the 1832 oval mark and good turned handles. 7 inch coopers knife by F. WEED who worked in Lockport in the 1840s also marked by JN. HELMER who appears to have been one of Weeds partners. Plus two unmarked ones that looks smith made one with a 14 inch blade handles worn but solid and one with a 10 inch blade handles replaced and one loose. | Good and better | DTN | 60 | 100 | | |
| 6702-328 | 6702-328 Lot of two handforged hammers. One has a nice strapped head with curled claw and octagonal poll 13 inch the other has a larger square poll 14 inch long. Handles old and could be original. | Good | SPM578 | 30 | 50 | | |
| 6702-329 | 6702-329 STANLEY No. 82 cabinet scraper. Type 1 marked vee cutter a little surface rust but otherwise nice and clean. | Good plus | GRN36 | 30 | 60 | | |
| 6702-330 | 6702-330 ESTWING nail pulling hatchet. Hatchet head has a ripping point on the pawl the nail puller is at the base of the handle. Unusual design that we havent seen before marked -patent applied for.- 13- with good wooden handle and nice sharp blade surface oxidation but no pitting. | Good plus | SPM580 | 50 | 100 | | |
| 6702-331 | 6702-331 I.C.I.HANDY No. 3 combination tool. Combination pliers and nail puller marked -pat. pending- weve seen them around (Schulz No. 813) but dont know who made them or whether the patent was ever issued 9 inches. | Good | DEN128 | 30 | 60 | | |
| 6702-332 | 6702-332 RIPLEY patent combination wrench. Ezra Ripleys first patent combination adjustable wrench patented in 1857 and manufactured by him in Troy (Schulz No. 823) 13 inch cleaned some mild surface pitting patent date worn but legible. | Good | DEN126 | 40 | 80 | | |
| 6702-333 | 6702-333 BOYNTON PATENT pipe wrench. Alligator type wrench manufactured by CAMPBELL PRINTING PRESS and MFG. CO. of New York later model based Edward Boyntons improved patent of 6-4-89 that incorporated stepped jaws. 13 inch model cleaned with some mild surface pitting jaws work smoothly. | Good | DEN136 | 100 | 200 | | |
| 6702-334 | 6702-334 AMERICAN BULLDOG boot jack. Cast iron in the shape of a pistol hinged along the top and unfolds for use as a boot jack. Nice and clean. | Good | DJS368 | 40 | 80 | | |
| 6702-335 | 6702-335 Lot of three spoke nipple wrenches. Patented in 1894 by ALBERT DUDLY of Menominee MI and designed to wrap around a bicycle spoke to clamp on the nipple. A 3- model made by A. Dudly Mfg. Co a 3-five-eights inch version made by Dudly Tool Co. and a 3-five eighths inch version marked -Stevens NY.- | Good plus | PKL315 | 80 | 140 | | |
| 6702-336 | 6702-336 PECK STOWE and WILCOX nut wrench. Uncommon example of Squire Robinsons 6-16-1885 patent 12 inch good jaws some surface dinging super clean wooden handle. | Good plus | DEN141 | 60 | 120 | | |
| 6702-337 | 6702-337 PECK STOWE and WILCOX monkey wrench. 8 inch model based on Robert Ellrichs 1-14-96 patent with the -Pexto- oval mark. Good wooden handles nice clean condition. | Good plus | DEN138 | 40 | 80 | | |
| 6702-338 | 6702-338 Lot of seven cabinetmaker books. The Cabinetmaker Treasury by Hoard and Marlow The Cabinet-Maker and Upholsterers Guide by Hepplewhite The Cabinet-Maker and Upholsterers Drawing Book by Sheraton The Cabinet-makers of America by Bjerkoe two copies of Fine Furniture for the Amateur Cabinetmaker by Marlow The Gentleman and Cabinet-Makers Director by Chippendale. Some dustjackets tattered one copy of Fine Furniture missing dustjacket a couple are paperbacks. Most in decent shape. | Good minus and better | SAN29 | 30 | 60 | | |
| 6702-339 | 6702-339 Lot of two books. A Guide to the Makers of American Wooden Planes by Pollak 4th edition paperback clean with light wear. And American Woodworking Tools by Kebabian and Witney 1st edition hardcover dustjacket ripped a little but overall in good shape. | Good | ESY144 | 40 | 80 | | |
| 6702-340 | 6702-340 Lot of three catalogs. Two reprints for the MILLERS FALLS Catalog 42 and BUCK and HICKMAN 1902 catalog clean plus a hardcover LUFKIN No. 14 catalog from 1955 with a pricelist as well in good shape. | Good | MHT | 30 | 60 | | |
| 6702-341 | 6702-341 Lot of three books. Dictionary of Tools by Salaman 1st edition hardcover a small stain on dustjacket otherwise in decent shape. EAIA Directory of American Tool Makers 1990 edition paperback clean. And Classic Hand Tools by Hack 1st edition hardcover in good condition. | Good | MHT41 | 40 | 80 | | |
| 6702-342 | 6702-342 Lot of five books. The Toolbox Book by Jim Tolpin 2nd edition hardcover. The Art of Fine Tools by Nagyszalanczy 1st edition hardcover light wear. The Woodwrights Shop by Roy Underhill 1981 edition hardcover dustjacket tattered and pages slightly yellowed. Plus Best of Fine Woodworking Selecting and Using Hand Tools and How to Choose and Use Bench Planes and Scrapers by English both paperback and gently used. | Good minus and better | JPR147 | 35 | 70 | | |
| 6702-343 | 6702-343 Lot of six ERIC SLOANE books. American Yesterday 1st printing. The Cracker Barrel 3rd printing. The Second Barrel 1st printing. A Reverence for Wood 1st printing. Diary of an Early American Boy 1st printing. And Dont A Little Book of Early American Gentility 1st printing. All hardover all but Dont have dustjackets most have light wear and tearing at edges pages yellowed. | Good | SAN14 15 | 75 | 150 | | |
| 6702-344 | 6702-344 Dealer lot of IRON HORSE auction catalogs. 1970s catalogs from the auction house that started it all. Nos. 5 7 9 10 and 13-17 plus the 1977 Book Catalog. All fully intact with some pencil notes. | Good plus | BEN20 | 80 | 150 | | |
| 6702-345 | 6702-345 Dealer lot of bench plane parts. Four beech totes a knob two lever caps three frogs and a stack of cutters and cap irons. Mostly Stanley or unmarked. All good or better minimal rust. As is no returns. | Good and better | MMY88 | 60 | 120 | | |
| 6702-346 | 6702-346 Dealer lot of leather working tools. 14 in total. Creasers bevelers groovers pricking wheels and others we dont know the names of. Most appear to be from a single set. | Good | JCI66 | 75 | 125 | | |
| 6702-347 | 6702-347 Dealer lot of STANLEY tools. Five block planes including two No. 102 and a No. 100 and No. 100-half squirrel tails and a No. 110 one No. 102 has rust but rest pretty clean Two STANLEY No. 80 scrapers one worn with vee mark on blade pitting on sole and other has blue japanning with some paint flecks on backside otherwise clean. A No. 66 hand beader with round fence but no cutters plating 80 percent percent. A No. 63 spokeshave clean with 95 percent japanning and a No. 151M japanning 95 percent with light surface rust. A No. 78 duplex rabbet and filletster plane japanning 85 percent spots of rust sweetheart mark on cutter. A No. 30 angle divider sweetheart mark on blade plating 80 percent. And two No. 49 bit gauges clean one IOB. | Good and better | PTL42 46 48 49 51-57 59 64 | 100 | 200 | | |