Welcome!!
About Brown Tool Auctions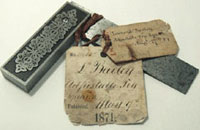 Our sales are known the world over for quality and consistent prices. In our 25th auction catalog we sold a Sandusky Presentation Center Wheel Plow Plane from the 1876 Centennial for a world-record price of $114,400. Clearly, we are the ones who sell the best year after year. We do not sell tens of thousands of tools a year simply to turn a percentage. Instead, we are a leading force in the tool market and are committed to keeping the market strong.
We offer the widest market and options for tailoring our sales to your collection. In 1997, Brown Tool Auctions and The Fine Tool Journal joined forces. The two companies work well together, providing two distinct markets through which we can sell your consignments. Today, the two auctions are separate but under the same owner, and still work together to customize the audience for each item, ensuring the sale of all you tools at high prices, not just the showpieces. Your collection, if large, can be sold as a separate auction or, if smaller, be combined with other high-quality consignments from established collectors.
We provide the strongest advertising, reaching hundreds of thousands of people around the world. Our advertising plus our worldwide-web connections combine to ensure that your collections and consignments reach the maximum amount of exposure. As a result, our auctions and publications grab the attention of collectors across the country and around the world willing to pay top dollar for your tools. This is a dependable setting and formula, producing more than a hundred successful auctions in the past and will continue to do so in the future. Do not take a chance with your collection and investment.
Quality and service are not just buzzwords; rather, it's the way our company does business. Service to our consignor is our business: moving tons of tools just for a fee will never be our approach. We are a full-service tool company. We attend to all the details of selling your collection: packing, light cleaning, cataloging, photographing, advertising, and Internet promotion. As collectors, researchers, and dealers for over 42 years, we fully appreciate the concerns and considerations involved in making these deeply personal decisions. We understand the years of effort that go into your collection. You have our assurance that we will make the sale of your tools as trouble-free and easy as possible.
We offer very competitive consignment fees and will not be underpriced. Our fees are all-inclusive with no hidden charges. More importantly, the additional fee in the form of the buyer's premium is the lowest available. We can sell quickly if need be - but doing it right is more important to us. Our sales allow you to honor your collection by providing it with the best auction setting, best auctioneers, finest advertising, and best collectors, who have proven they pay the highest prices at our auctions. Please feel free to contact us any time. We'll be happy to provide more details. All contacts will be held in complete confidence.
It is 'plane' to see who sells the best!
No fuzzy numbers. No hype. No spin.
Just a solid Michigan business
doing business the Old-Fashioned Way with Service, Quality and Integrity.

Office Hours: Tu-Fr 10am-4pm EST
evenings and weekends by chance